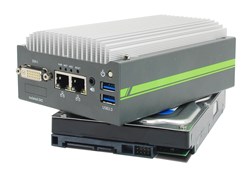 Complete Fanless Embedded Computer System in Size of 3.5" HDD
Taipei, Taiwan (PRWEB) February 04, 2014
Neousys is proud to announce the most compact embedded fanless controller POC-200 powered by Intel® Bay Trail-I E3845 Quad-Core Processor.
Features of the new controller include:

Ultra-compact 150 mm x 100 mm foot-print
Intel® Atom™ E3845 1.91GHz Quad-core processor
Two 802.3at (25.5W) Gigabit PoE ports
Three USB 3.0 ports and Isolated DIO
Rugged, -20°C to 70°C fanless operation
The POC-200 is an ultra compact fanless controller, with dimensions equalling 146 x 102 x 58mm (W x H x D) — almost the same size as a 3.5 inch HDD. The device can be easily built into existing systems in the production line or used for customized systems. Powered by the new Intel® Bay Trail Quad Core CPU, 1.91Ghz E3845, the POC-200 is capable of upgrading to a maximum of 8 GB memory; feature-isolated I/O provides users with the digital devices connection and the slick interior design minimizes compatibility and cabling issues.
The POC-200 -- embedded with Intel® new Bay Trail CPU -- offers a superb enhanced graphics performance and delivers faster high-definition graphics. The unique design of the 22nm technology integrates more energy-efficient CPU and built-in security onto a chip that draws less than 10 watts of power.
The POC-200 supports rich I/O interfaces, including 4x COM ports, 4x USB ports (3x USB 3.0, 1x USB 2.0), 4x isolated digital I/Os and 2x PoE GigE ports and USB 3.0 ports to enable fast data computation and acquisition. The POC-200 also features one Mini-PCIe slot with one USIM socket for wireless communication requirements.
The POC-200's PoE option is compliant to 802.3 at (25.5W) and total power budget consumption for 2x PoE GigE ports is up to 50W which can be equipped with IP or a Gigabit camera. The POC-200 integrated with PoE solution allows users to easily add on different power devices such as IP camera for surveillance usage, VOIP terminals and different Wireless Aps. The POC-200 is excellent for image-processing applications such as video streaming, video surveillance, image mapping, visual inspection and many more. System integrators do not have to worry about external power supplies when connecting network cameras and the system can be placed in optimal positions for best performance results.
In addition, the POC-200 features performance-enhancing mechanical and thermal design; the special heat sink design enhances the thermal dissipation more efficiently and the aluminum alloy chassis helps prevent corrosion, resulting in improved longevity. With industrial SSD storage devices, the POC-200 provides an extended operating temperature range of -20 to 70 °C, for a variety of applications under harsh environments.
Neousys Technology, established in 2010, designs and manufactures rugged embedded platforms and modules. With the core expertise ranging from embedded computing to data acquisition and processing, the goal is to innovate and integrate feature sets into products for various vertical markets and with simple intelligent architecture.
For more information about Neousys Technology and the POC-200, please visit: http://www.neousys-tech.com.
Media Contact: marketing(at)neousys-tech(dot)com
Inquiry: sales(at)neousys-tech(dot)com