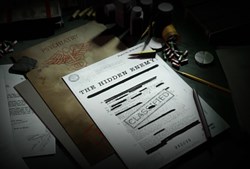 We have never drugged our troops to this extent and the current increase in suicides is not a coincidence. — Lieutenant Colonel Bart Billings
Los Angeles, California (PRWEB) January 09, 2014
Citizens Commission on Human Rights (CCHR) has just released a groundbreaking documentary, The Hidden Enemy: Inside Psychiatry's Covert Agenda, which exposes how psychiatry is behind the increased diagnoses of PTSD in soldiers and the skyrocketing military suicide rates. As Lieutenant Colonel Bart Billings states in the documentary, "We have never drugged our troops to this extent and the current increase in suicides is not a coincidence."
The documentary reveals how military psychiatrists have used emotionally and psychologically wounded soldiers to experiment with "treatments" like electroshock, insulin shock and mind-altering drugs and provides first-hand accounts from dozens of soldiers who have survived the epidemic of pharmacological devastation and death.
Below are just a few of the facts provided in the documentary:

From 2005 to 2011, the U.S. Department of Defense increased its prescriptions of psychiatric drugs by nearly seven times. That's over thirty times faster than civilians.(1)
Officially, one in six American service members is on at least one psychiatric drug. (2)
Over the last ten years, the U.S. government has spent more than $4.5 billion dollars just medicating soldiers and veterans, according to the Dept. of Veterans Affairs.(3)
In 2012 alone, more U.S. active duty service men and women committed suicide than died in combat.(4)
Overall since 2002, the suicide rate in the U.S. military has almost doubled.(5)
According to the Dept. of Veterans Affairs, veterans are killing themselves at the rate of 22 per day.(6)
Today, 37% of war veterans are being treated for PTSD and 80 percent of those are being "treated" with at least one psychiatric drug.(7)
Former U.S. Army Sgt. Joel Kort, who is interviewed in the documentary, provides a glimpse of his introduction to the "help" military psychiatry offered: "I didn't see the emergence of psychiatry in the Army until I suffered my own injury, and then it was like, it was a flood. It was a flood of doctors and it was a flood of meds…. I know that I've been on Ambien, Seroquel, Paxil—that was one of the big ones. A very dangerous drug called Abilify. It kind of puts whatever meds you're on, on steroids."
CCHR states that Kort's experience with a virtual "cocktail" of psychiatric drugs is becoming the norm in military mental health "treatment."
CCHR interviewed Dr. Abdul Alim Muhammad, who explains psychiatry's inability to produce any science to back up even one of the alleged "mental disorders" commonly assigned to troops: "Psychiatry especially has no objective means of making any diagnosis. In general medicine at least we have x-rays and blood tests to go on…. And so that's the big, big dilemma faced by psychiatry. They have zero ability to diagnose, so they have zero ability to treat."
Neurologist Dr. Fred A. Baughman, Jr., also interviewed, fully concurs, "No physical abnormality has ever been found, so there is no physical abnormality to demonstrate by an MRI, CT, an EEG; it's another fraud, pure and simple...another fraud."
The Hidden Enemy is a battle cry for action against the psychiatric diagnosing and drugging of militaries worldwide.
Read the full article here.
Watch the documentary here.
About Citizens Commission on Human Rights: CCHR is a non-profit, non-political, non-religious mental health watchdog. Its mission is to eradicate abuses committed under the guise of mental health and enact patient and consumer protections. CCHR has helped to enact more than 150 laws protecting individuals from abusive or coercive mental health practices.
--
(1) "War on Drugs," The New York Times, nytimes.com/2013/04/07/opinion/sunday/wars-on-drugs.html, April 6, 2013.
(2) "Medicating the Military," Army Times, armytimes.com/article/20100317/NEWS/3170315/Medicating-military, March 17, 2010.
(3) "Mental Health Drug Expenditures" Dept. of Veterans Affairs, cdn.govexec.com/media/gbc/docs/pdfs_edit/051712bb1_may2012drugtotals.pdf; "Soaring cost of military drugs could hurt budget," Austin American-Statesman, statesman.com/news/news/national-govt-politics/the-soaring-cost-of-military-drugs/nThwF/, Dec. 29, 2012.
(4) "US military struggling to stop suicide epidemic among war veterans," The Guardian, theguardian.com/world/2013/feb/01/us-military-suicide-epidemic-veteran, Feb. 1, 2013.
(5) "Baffling Rise in Suicides Plagues the U.S. Military," The New York Times, nytimes.com/2013/05/16/us/baffling-rise-in-suicides-plagues-us-military.html?pagewanted=all, May 15, 2013.
(6) "Suicide Data Report, 2012," Dept. of Veterans Affairs, va.gov/opa/docs/Suicide-Data-Report-2012-final.pdf.
(7) "Marines Battalion Mentally Upbeat, Despite Record Deaths," ABC News, abcnews.go.com/Health/camp-pendleton-marine-battalion-mentally-fit-deadliest-war/story?id=13377215, April 15, 2011; "Pharmacotherapy of PTSD in the U.S. Department of Veterans Affairs," Journal of Clinical Psychiatry, ncbi.nlm.nih.gov/pubmed/18588361, June 2008.