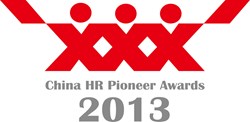 We are thrilled for HRBoss to be formally recognized as the pioneer of HR Big Data in China at these awards.
(PRWEB) January 09, 2014
Today HRBoss, Asia's dominant Human Capital and staffing software firm, was honoured at China's prestigious HR Pioneer Awards, taking home the accolade for 'Best HR Big Data Solution'.
The awards are organized by TopHR, one of China's leading HR media companies, and have been running since 2007. They are widely recognized as the benchmark of innovation within the Human Resources space in China, bringing together the leading HR services providers and professionals nationwide. HRBoss triumphed in their category with the recently launched talent analytics solution, EmployeeBoss.
Kevin Xia, HRBoss North-Asia Regional Director, commented: "Naturally, we are thrilled for HRBoss to be formally recognized as the pioneer of HR Big Data in China at these awards. It's been an exhilarating year of expansion for HRBoss and awards like this are the proverbial cherry on the cake.
"All Human Resources professionals in China are aware of the buzz about HR Big Data, but surprisingly few have taken real steps to incorporate it into their HR program. HR Departments here in China face many challenges, but almost all are frustrated with their inability to obtain accurate reports in real-time from all of the employee data they manage. We can change this and fast".
Delivered as a turnkey Cloud-based subscription solution, EmployeeBoss delivers people-insights in an intuitive and highly-visual environment. Notably, it showcases the first dynamic HTML 5 (Mobile optimized) organizational chart views.
This year's HR Pioneer Awards ceremony was held at the 6th China HR Strategic Management Annual Conference on 18th December at the Shanghai Four Seasons Hotel. The awards committee comprises of the human resources experts from various industry associations, including Shanghai Talent Services Industry Association, Shanghai Software Industry Association, academic experts, media analysts and previous award winners.
Other award categories at the China HR Pioneer Awards include 'Most Influential HR Professional' and 'Most Influential HR Team". Find the full list of award winners here.
Xia continued, "EmployeeBoss is about empowering HR with data-driven insights which can support strategic business decisions at C-suite level. Ultimately, EmployeeBoss helps HR to properly leverage Big Data analysis and gets them knocking at the door of the Boardroom. The HR Big Data revolution is here and we're proud to be leading the way."
About HRBoss
HRBoss is the fastest growing HR & Recruiting software company in Asia. Founded in 2011, HRBoss is rapidly expanding its footprint across Asia with offices currently open in 7 countries today (Singapore, Japan, Vietnam, Indonesia, China, Malaysia and Hong Kong) with additional Asian, European and US offices due to launch in 2014. All of our Cloud solutions are intuitive, highly-configurable and are supported locally on-the-ground where you are. In 2013, HRBoss has experienced rocketing growth, adding over 10,000 new users from all industries, from local start-ups and government agencies through to industry leaders, including Mitsubishi Fuso, Danone and the Monetary Authority of Singapore (MAS) The HRBoss founding team consists of some of the most sought after talent in the industry, with experience that takes in SAP, Oracle, Hays, Lumesse, Accenture and Michael Page International.