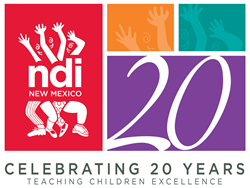 Through our programs, students learn the skills necessary to overcome obstacles and gain the confidence, tenacity and work ethic necessary to succeed.
Santa Fe, NM (PRWEB) January 09, 2014
Nat'l Dance Institute-New Mexico Named One of Top Arts Organizations in U.S.
Celebrating its 20th year, National Dance Institute New Mexico (NDI New Mexico) – a statewide non-profit organization who has helped more than 75,000 of New Mexico's underserved children since 1994 – has been featured by the Wallace Foundation in an exclusive list of eight "exemplary" and "highly effective" arts organizations in the United States.
The Wallace Foundation is an independent, national foundation dedicated to supporting and sharing effective ideas and practices that expand learning and enrichment opportunities for children.
"It's great to know that our programs have not only made a measurable difference in the lives of children but are now recognized and validated by the Wallace Foundation as well," said Russell Baker, NDI New Mexico executive director. "Factors such as high poverty, childhood obesity, academic gaps and limited access to arts education in New Mexico limit children's opportunities to develop into successful students. But through our programs, students learn the skills necessary to overcome obstacles and gain the confidence, tenacity and work ethic necessary to succeed."
The Wallace Foundation's report, "Something to Say: Success Principles for Afterschool Arts Programs from Urban Youth and Other Experts," examined both the supply and demand for afterschool arts programs. The report offers insights directly from middle and high school students and their families as well as teachers and leaders in the arts and youth development.
The report found that both experts and tweens (between ages 10 and 13) and teens from low income families agreed on what constitutes a great arts program. Based on the report's findings, there are 10 principles for an effective, high quality arts program:
Instructors are professional, practicing artists, and are valued with compensation for their expertise and investment in their professional development;
Executive directors have a public commitment to high-quality arts programs;
Arts programs take place in dedicated, welcoming spaces and affirm the value of art;
There is a culture of high expectations, respect for creative expression and an affirmation of youth participants as artists;
Programs culminate in high-quality public events with real audiences;
Positive relationships with adult mentors and peers foster belonging and acceptance;
Youth participants actively shape programs and assume meaningful leadership roles;
Programs focus on hands-on skill building using current equipment and technology;
Programs strategically engage key stakeholders to create a network of support for both youth participants and the programs; and
Programs provide a physically and emotionally safe place for youth.
NDI New Mexico embodies the 10 principles and employs 61 instructors and musicians, all with professional backgrounds in dance and the arts. The full report is available at wallacefoundation.org/knowledge-center/arts-education/Pages/default.aspx.
Co-founded in Santa Fe, NM by Catherine Oppenheimer and Jacques d'Amboise, NDI New Mexico has grown from serving 100 children in 1994 to 7,500 children annually through in-school, after-school, summer and advanced training classes in 34 New Mexico communities. NDI New Mexico's award winning arts and physical fitness programs serve children in urban, rural and Native American communities. Nearly 78 percent of NDI New Mexico's students are from minority ethnic groups, and 73 percent qualify for free or reduced cost lunches at school.
NDI New Mexico's programs are designed to boost self-confidence, improve grades, promote good health, foster better relationships, and make going to school a productive and fun experience. Through NDI New Mexico's programs, children learn the "core four" – work hard, do your best, never give up, and be healthy. Programs include:
In-School Program – In partnership with public elementary schools, NDI New Mexico offers an Outreach Program for third to fifth graders for a full 15 or 30 weeks. Dance classes are provided as part of the school day curriculum at no charge to students. Students celebrate their success at the end of each program with highly attended public performances.
Residency Program – NDI New Mexico brings the In-School Program to 20 rural communities in New Mexico with formats ranging from one to three weeks. Teachers/ musicians work with students daily which culminate into public performances.
Advanced Training – In-depth programs are offered after school and on Saturdays throughout the school year and in the summer. Programs are geared to: Super Wonderful Advanced Team (SWAT) for elementary; Celebration Team for middle school; and Company XCel for high school. Advanced Training classes are free.
Dance Barns and Hiland Programs – Rigorous performing arts classes with sliding scale tuition are open to all children in the community at The Hiland in Albuquerque and The Dance Barns in Santa Fe. More than 750 children attend classes each week. By 2014, final renovations to The Hiland Theater are expected to be completed.
Teaching Excellence® – Certification program for prospective NDI New Mexico instructors, including a three-week teacher training program, a one to two year apprenticeship, and professional workshops.
HIP to Be Fit® – In 2004, NDI New Mexico received a three-year grant from the U.S. Dept. of Education to develop and measure the impact of fitness and nutrition curricula for elementary school teachers and students.The successful program continues today.
Based on the findings of independent research organizations, including UNM's Center for Education Policy Research, fourth through eighth grade students in NDI New Mexico's advanced training programs have shown significantly higher math, reading and science scores than their peers and exhibited significantly higher positive health and behavioral improvements. Visit ndi-nm.org/content/evaluation for more information.
Right now, there are nearly 100 New Mexico schools on the waiting list to participate.
NDI New Mexico relies on the generosity of private and public supporters to continue its mission. In honor of NDI New Mexico's 20 year anniversary, galas and year-end performances will take place in May at The Dance Barns and The Hiland. For a list of ways to support NDI New Mexico, visit ndi-nm.org/content/donate.
For more information, visit ndi-nm.org.
CONTACT: Erica Asmus-Otero 505-259-2202 Erica(at)griffinassoc(dot)com