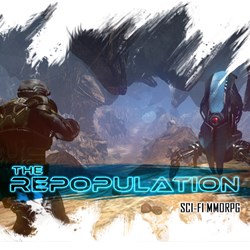 "It's Like Star Wars Galaxies and Ultima Online Are Having a Baby" - Kotaku
Bloomington, IL (PRWEB) January 10, 2014
Above and Beyond Technologies is pleased to announce their flagship title, The Repopulation, will be entering the final private alpha testing phase in March. Many early supporters and members of the press will get their first glimpse of the sandbox MMORPG title that is being compared to Star Wars Galaxies and Ultima Online.
Following the strong outpouring of support for the title, a Kickstarter campaign was started and reached its goal in 9 days. The community demanded to see The Repopulation released on Steam. Based on their support, on January 7th The Repopulation was Greenlit making way for the opportunity to be on Valve's Steam platform.
The Repopulation is a Massively Multiplayer Online Role Playing Game in a science fiction setting. In many ways it is a throwback to the social aspects and sandbox driven gameplay that made titles like Star Wars Galaxies and Ultima Online successful. But it also integrates more recent innovations and introduces an array of its own unique wrinkles.
The driving force behind The Repopulation is choice to play the game in the way that you want to play it. The choice to play the game like an RPG or a first/third person shooter. To advance your character through combat or peaceful means. The freedom to craft and harvest without being forced into combat. To act as a hero or a villain. A thief, diplomat, home builder, tamer, crafter, or an entertainer. To participate in Player vs. Player combat or to avoid it altogether.
The Repopulation is one of the Most Wanted MMOs of 2014 according to MMORPG.com. "A huge open sci-fi sandbox with a focus on crafting and cross-faction warfare? Yes please. The Repopulation has been very open and engaged about the experience they're seeking to deliver when the game launches in 2014, with updates coming fast and furious. We've been keeping our eyes on this one for months now, and 2014 should prove whether or not Josh Halls' magnum opus is worth the wait," says William Murphy of MMORPG.com.
Anyone that is interested in Alpha or Beta testing can visit the website to sign up to become part of the journey to launch. The Kickstarter campaign ends January 26 with the final Alpha testing phase starting in March.
Based in Bloomington, IL, Above and Beyond Technologies is an indie company with key members in the United States, Thailand, Netherlands, and Germany. Above and Beyond Technologies specializes in utilizing cloud services and development techniques to develop large scope projects rapidly with a group of skilled, international developers.