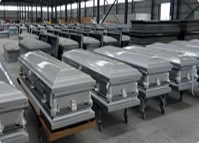 (PRWEB) January 15, 2014
Recently, Millionaire Casket, a leading casket manufacturer and wholesaler, has added a new selection of ash wood caskets (http://www.millionairecasket.com/solid-ash-wood-4/) to its product line. These new products are now provided at discounted prices, up to 28% off.
The company has been working in the industry for many years. At its one-stop website, it offers a full range of caskets and useful funeral products. The rich experience enables the company to produce high quality items. More importantly, the company has its own manufacturing facility, which is loaded with advanced machinery.
The CEO of the company says, "We are very excited to release new products and launch such a promotion. This time, we want to show our appreciation to all new and old clients. We are now offering a wide selection of wood caskets that are available in various kinds of wood species. Our products have a good market performance, and have greatly stimulated our market share in the past few months. As a result, we have confidence in our brand new items."
"The fresh designs of ash wood caskets are very good. We deploy strict quality check to ensure that every item is excellent. Clients from around the world can seize the great chance to get what they need," he adds.
About MillionaireCasket.com
MillionaireCasket.com is a leading casket company based in China. It focuses on the business of casket wholesale. It offers an exquisitely crafted line of all kinds of metal caskets, solid oak caskets, veneer caskets, cremation caskets, rental caskets, orthodox caskets, infant or over-sized caskets and European style coffins.
For more detailed information, readers can visit: http://www.millionairecasket.com/.