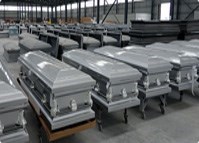 (PRWEB) January 19, 2014
MillionaireCasket.com, one of the most outstanding casket manufacturers in the world, has recently proudly launched its special offer on solid birch wood caskets. At the moment, all worldwide distributors can enjoy a discounted price, up to 30 percent off, when buying solid birch wood caskets from the Millionaire Casket company.
Each of the solid birch wood caskets offered by the company comes with a special locking system. What's more, the company aims to be a one-stop funeral supplier that provides a huge selection of cremation caskets, metal caskets, solid wood caskets, veneer caskets and more.
"We are happy to launch the special offer. The promotion is valid until February 9, 2014. Please catch this opportunity, otherwise you will have to pay more. Casket distributors can also call us for more details," says, the CEO of the company.
Buying caskets online from an original manufacturer is a wise way for distributors to save money. What's more, the company's updated online shop can save a lot of time and efforts.
About MillionaireCasket.com
MillionaireCasket.com is a leading casket company based in China. It focuses on the business of casket wholesale. It offers an exquisitely crafted line of all kinds of metal caskets, solid oak caskets, veneer caskets, cremation caskets, rental caskets, orthodox caskets, infant or over-sized caskets and European style coffins.
For more detailed information, readers can visit: http://www.millionairecasket.com/.