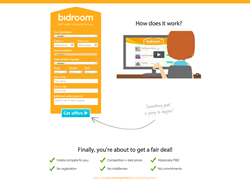 Bidroom.com is a new website that effectively gives the middleman the boot and empowers hotels and travellers to communicate directly with one another. It's a win-win for everyone.
London (PRWEB) January 10, 2014
What Skype did for phone calls and Easyjet did for air travel, start-up Bidroom.com now plans for hotel reservations. Currently, customers using hotel booking sites, and the hotels themselves, are getting a rotten deal. That's because of the enormous commissions that have to be paid to the middlemen - Priceline (booking.com), Expedia Inc (expedia.com and hotels.com) and many others. Joint revenues for just these two companies average close to 1 billion US dollars per month. That's money down the drain for customers and hotels, argues Mark Bradshaw, co-founder of Bidroom.com. "It's absurd in this day and age that hotels and customers have allowed themselves to be bullied by these middlemen who basically add no value at all to the traveller. When I stay at a hotel, does booking.com serve me my coffee or turn down my bed? I'd rather my money went to the hotel in full, and the hotel in turn just gave me a great deal."
Bidroom.com is a new website that effectively gives the middleman the boot. The idea is surprisingly simple, the technology relying on an automated process and an evolutionary database. Customers simply fill out a short form outlining their stay - including date of arrival, departure, number of rooms. So far, so similar. But once the request is completed, everything changes. Instead of pulling up a simple list of hotels and prices to match your search criteria, bidroom contacts hotels in real time and invites them to give their best offer and (here's the clever part), encourages them to bid against each other for your custom. A fixed 24 hour countdown clock keeps hotels and client focussed on reaching a deal. Normally, the prices are lower than those offered through the big booking websites. "That's the great benefit", says Bidroom's Michael Ros. "Since bidroom is absolutely free for hotels and clients, hotels can pass on the savings to their customers. We've dumped the useless middlemen entirely and empowered hotels and travellers to communicate directly with one another. It's a win-win for everyone." Except, of course, for companies like booking.com. "They'll have to find some other use for their 6,400 staff and 115 worldwide offices", adds Mark Bradshaw. "Who knows? Maybe they can turn all their fancy offices into hotels and start doing something useful for a change."
So, how does Bidroom.com plan to make money? "Right now, we're focussed on making customers and hotels happy", says Casper Knieriem, Bidroom.com's financial brains. "We'll be happy enough if we, our families and friends can finally get a good deal. Facebook, Twitter, Skype - they've all shown they can provide a great service for without any charge. We'll do the same."
"Hotels are going to love it", says Bradshaw. "For years we have been hearing their complaints about the horrendous commissions they've been paying to the likes of booking.com, expedia, hotels.com and so on - in some cases up to 25 percent. It's absurd. No other industry allows itself to be pushed around so much by the middlemen. With bidroom.com there is absolutely no commission, it's totally free for both the hotel and the traveller. Hotels finally have an opportunity to make direct bookings and get rid of the bullies."
"We're the good guys", interjects Ros. "We're providing the tools the hotels need to finally rid themselves of commissions. But we can't do it alone. We're now relying on the hotels and customers to seize this opportunity. In a few years time, I hope we'll all look back, collectively shake our heads and wonder how we ever let these middlemen bully us in the first place. We just don't need them."