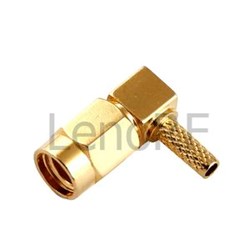 (PRWEB) January 11, 2014
Recently, LenoRF, the famous connector manufacturer and retailer, has announced its new collection of SMA connectors. Additionally, the company has launched a promotion of these high quality products; all of them are now offered at discounted rates, up to 32% off.
According to the CEO of the company, the SMA connectors offered by LenoRF are very practical. SMA means "SubMiniature version A". SMA connectors are widely used in Wireless LAN, Vehicle WiMax, Tracking System, Telecommunication, Aero and precise testing instrumentation. Each SMA connector has a 50ohm impedance, 1/4-36 thread type coupling mechanism and it provides very good electrical performance from 0 to 18GHz. What's more, they are designed in various quality classes.
All these greatly discounted SMA connectors are of top quality. They can be widely used in many industries. The company promises that it offers excellent products only. It often applies high end machinery from developed countries.
Last but not least, LenoRF offers a great online service. Worldwide clients can call in to speak to its online workers around the clock. At its online shop, emergency support is available 24×7. All the company's workers are professional, knowledgeable and friendly.
About LenoRF
LenoRF is a famous global manufacturer of coaxial connectors and cable assemblies. The company has been specializing in the industry for several years and it insists on providing effective turnkey solutions for radio frequency system. Its customers include worldwide OEMs, distributors and system integrators from various fields like broadcast, land-mobile, wireless communications, microwave market sectors and so on.
For more information about its items, readers can visit http://www.coaxial-connector.com/product/sma-connectors-male-right-angle-for-rg-178-crimping/.