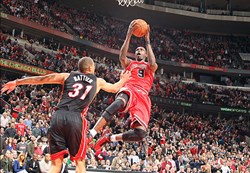 (PRWEB) January 09, 2014
In an Explore Talent News, Luol Deng's ten-year career with the Chicago Bulls ended on Monday January 6. He was traded to the Cleveland Cavaliers for Andrew Bynum and three draft picks.
Deng began playing for the Bulls in 2004, when he was a round 1 draft pick. He had left Duke University after only one year and one successful season there. He made the NBA All-Rookie First team despite having sustained a wrist injury during the season and having to sit out for the remainder. The rest of his career with the Bulls would prove to be a continuation of this precedent of success as he would later make play on two NBA All-Star teams and leave the Bulls as one of their longest tenures and top-scorers.
According to the Chicago Tribune, Coach Tom Thibodeau and many of Deng's fellow Bulls expressed regret and sadness about his leaving the team.
Apparently the Bulls effectuated the trade as part of an overall tactic of looking ahead and building for next season and beyond. For that, some sacrifices were made for the current season. This course of planning went into effect after Derrick Rose sustained a season-ending knee injury earlier this season.
Deng authored a heartfelt goodbye on Twitter to the Bulls and to Chicago. It is always sad to see such a legacy come to an end, but the future looks bright for the Bulls as hopefully their strategy will pay off, as well as for Luol Deng as he begins his tenure with the Cavaliers.