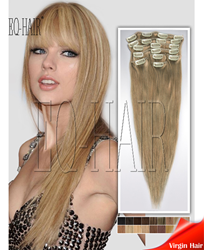 (PRWEB) January 09, 2014
EQhair.net, a leading hair extension wholesaler and retailer, has released its clip in hair extensions for the global market, and launched a hair product promotion to acknowledge the customers.
Based on the CEO of the company, the clip in hair extensions from EQhair are made of 100% natural human hair. They can be styled by any styling tool, so that they look like a customer's own hair. Now, customers can find the latest discounted prices on the updated website of EQhair.net. The global customers can choose their favorite hair styles conveniently.
It's worth mentioning that customers can get an extra discount of 20% off when they follow EQhair.net on Twitter or like it on Facebook, Google+ or LinkedIn. The company wants to expand its international effluence through SNS.
"The international market is our main market for our company. We are happy to see our business' fast growth in the past few years. We want to acknowledge our clients through such a promotion," said, the CEO.
Moreover, EQhair encourages its customers to share their photos by sending emails with photos to duke(at)eqhair(dot)net; the company will print some selected photos into pamphlets, and send them back to customers as a gift.
"I am an old customer of EQhair, and I love everything about this shop. It's really a surprise that I can see my photos in a magazine published by EQhair. The exquisite printing and clever design make me look like a super star. Ha-ha! Thank you EQhair," a lady from the UK says.
About EQhair
EQhair is a leading hair extension wholesaler and retailer. With over 15 years of experience in the industry, EQhair offers a wide range of fashionable hair products at reasonable prices. EQhair is devoted to providing high quality hair extensions for the ladies worldwide, and it welcome any request and review from customers worldwide. More details at http://www.eqhair.net/Brazilian-virgin-hair-clip-hair-top-quality.html.