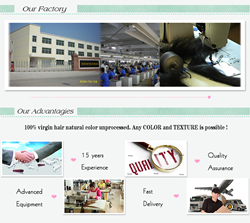 (PRWEB) January 10, 2014
EQhair.net, a leading hair extension manufacturer, has recently released its Peruvian virgin hair extensions to expand its market share. The company has also launched a special offer on all its hair extensions to acknowledge the customers.
EQhair is famous in the industry for its high quality virgin hair extensions. The new Peruvian hair extensions will be available with a splendid discount before the end of this month.
It's worth mentioning that customers can get an extra discount of 20% off when they follow EQhair.net on Twitter or like it on Facebook, Google+ or LinkedIn. The company wants to expand its international effluence through SNS.
Moreover, EQhair encourages its customers to showcase their personality by sending emails with photos to duke(at)eqhair(dot)net. The company will print the photos in pamphlets, brochures, booklets, posters and more. These publications will be send back to the customers as a gift.
EQhair.net promises all its virgin hair extensions have never been chemically processed. The company's product are popular among the customers worldwide. Trendy hair extensions are no longer synonymous with luxury, but the grade and exclusive cultural connotation.
A senior designer of the company states, "Hair fashion evolves season after season, and hairdo is nothing if not fashionable! Now, ladies can find their favorite products, no matter virgin Indian hair extensions or virgin Brazilian hair extensions, on our website. Keep up with the times, and we hope we can help women enjoy the fun we bring."
About EQhair
EQhair is a leading hair extension wholesaler and retailer. With over 15 years of experience in the industry, EQhair offers a wide range of fashionable hair products at reasonable prices. EQhair is devoted to providing high quality hair extensions for the ladies worldwide, and it welcome any request and review from customers worldwide. More details at http://www.eqhair.net/Peruvian-virgin-hair-deep-curl-top-quality.html.