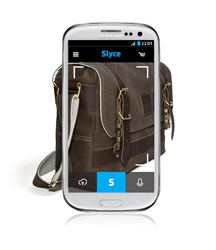 The Slyce technology enables retailers to literally be wherever their customers are, and this is a major disruption to the industry as it stands right now
Toronto, Canada (PRWEB) January 09, 2014
Slyce is already working with several of the leading North American retailer brands, integrating visual product search technology into existing apps and enabling their customers to snap a smartphone picture of any item they find in the real world – think, a watch worn by a passerby, the latest kitchen appliance or a dress worn by a favorite TV star - and be instantly provided with direct or similar matching products from the retailers product line. These can then be purchased instantly - at the exact point of inspiration.
Enabling retailers to literally be wherever their customers are
Mark Elfenbein, Chief Digital Officer at Slyce and formally President of Mood Media North America said "Visual search is rapidly becoming a must-have for leading retailers looking to satisfy demand at the point of consumer inspiration, whether that be – online, offline, in-store or out in the real world. The Slyce technology enables retailers to literally be wherever their customers are, and this is a major disruption to the industry as it stands right now."
Other visual search use cases
Slyce is also working on a multitude of other use cases including -

In-store checkouts - whereby consumers simply snap pictures of items they wish to purchase as they're walking around a store and are automatically billed as they leave.
Contextualized search - whereby consumers can take pictures of home improvement scenarios, i.e. a hole in the wall, and be provided with how-to repair videos as well as a list of required products and in store mapping tool to purchase them.
Direct purchasing from online images - whereby consumers are able to hover over any online image – think Pinterest or Facebook – and instantly receive direct or closely matching retailer products, available for one-click purchase.
Recent Announcements
Slyce recently announced a convertible debenture funding raise of $2.2M which followed an earlier oversubscribed $3.75M seed round. They also announced just last month the acquisition of desktop visual search tech startup Hovr.it.
First retailer applications featuring the Slyce visual search technology are due for release during Q2 of 2014.
To arrange a demo during the show, please contact Mark Elfenbein on Mark[at]slyce[dot]it or call 323-445-2773
ENDS--
About Slyce
Slyce is a visual product search platform which enables people to discover and purchase the things they love by snapping a photo with their smartphone or hovering over an image on their desktop. Using advanced image recognition technology, Slyce integrates with the world's leading retail brands, enabling them to be there at their customers' point of inspiration – wherever that might be.