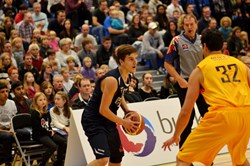 The students are serious about their academic study, and they are inspired by training and competing in the British Basketball League.
(PRWEB UK) 9 January 2014
Buckinghamshire New University basketball players are looking to slam-dunk their way to academic success as well as score points on the court, thanks to a partnership set up by the University and Surrey United Basketball Club.
Surrey United play in the British Basketball League and 12 of its players are studying three-year BSc (Hons) Sport and Exercise Science degrees at Bucks New University as well as turning out to play for the side in matches around the country.
The cohort of students, from countries around Europe, started the course in September and spend 17 hours per week training and playing for Surrey United, in addition to studying and competing for Bucks New University's basketball team.
Some students have joined the programme from the Harefield Academy near Uxbridge, Middlesex, which has an Institute of Basketball Excellence partnered with London United Basketball Club, which manages Surrey United.
A number of Surrey United matches are also broadcast on Eurosport, as well as BBL TV Player, the league's own channel.
Student, Elvisi Dusha, 19, is captain of Surrey United and said he is seeing the benefits of the partnership on and off the court.
He said: "My experience so far has been an exciting challenge physically and mentally because trying to juggle my professional basketball career with studies makes things very busy.
"We have two hours of basketball practice every day, as well as individual strength and conditioning, and then we typically play two games a week so it's a hectic schedule but I am enjoying every moment of it."
Paul Morgan, Head of Sport at Bucks New University, said: "This is a fantastic programme involving students from Lithuania, Poland, and Portugal, as well as the UK.
"The students are serious about their academic study, and they are inspired by training and competing in the British Basketball League.
"They are settling in well and we are excited about the potential for this partnership. It is allowing us to create an environment which is attractive to athletes who wish to pursue a high level of competition with academic study."
Emma Chambers, Director at Surrey United Basketball Club, said: "This partnership has allowed our players to join an integrated programme that provides the chance to compete in a professional league, as well as for Bucks New University, and also gain an academic degree in Sports Science and Coaching, so it is a fantastic link-up all-round."
Jack Majewski, Head Coach of Surrey United, said: "We have provided the opportunity for the students to play at the highest possible level of basketball in the UK. Thanks to the link-up with Bucks New University, this means they are provided with the opportunity to operate and actively participate in a highly professional environment both on and off the court."
Editorial notes
Buckinghamshire New University has enjoyed a long and successful history since it was founded in 1893. The University offers an extensive portfolio of courses spanning the creative and cultural industries, the management and information management sectors, and the public sector. It also offers services to industry including contract research, consultancy and the opportunity to employ graduates.
Website: bucks.ac.uk
For further information, details and images contact Dean Valler, Communications Officer at Buckinghamshire New University, on 01494 601 636 or 07920 212 937 or email dean.valler(at)bucks(dot)ac.uk.