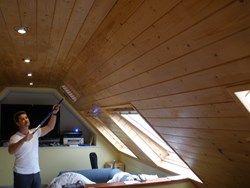 This 21st century insulation technology provides a great opportunity for homeowners to look for new and developing products which will not cost the earth.
UK and Ireland (PRWEB UK) 11 January 2014
NANOTECH COATING UK LIMITED introduces thermal insulation product Nansulate® to the UK and Ireland for the first time, and is available to homeowners looking to reduce energy consumption during winter months.
Amongst rising energy prices and the Government's Green Deal there is an evident need for people to keep abreast of energy efficient ways of warming their homes. The Energy Saving Trust are also prompting DIY fans to make improvements to the insulation of their homes when decorating.
"With energy prices are at an all-time high (bills reported to be soaring above £1,500), and Government schemes in place (for qualifying houses) to make improvements to insulation, heating or draught proofing, this 21st century insulation technology provides a great opportunity for homeowners to look for new and developing products which will not cost the earth," says Nanotech Coatings UK Ltd Managing Director, Kevin Buchler.
The clear thermal insulation coating, to help energy consumption throughout residential properties, called Nansulate® has been developed by US patent holder and nanotechnology manufacturer Industrial Nanotech Inc. Previously only available in the US, Nansulate® is now available to anyone renovating or insulating their homes in the UK and Ireland.
Buchler, the sole European importer and distributor for this innovative product, continues: "We are very positive about the potential impact Nansulate® can have on the UK and Irish markets. A three-coat application can reduce energy consumption, and with long-term performance it's very cost effective. Design conscious people can also be assured that along with being able to coat almost any type of building surface, its clear finish is suitable for pre-painted walls."
Insulating old buildings can be a challenge especially during harsher winter months. This new product developed from 21st century technology is designed to increase the thermal resistance in wall, ceilings and attics and provide protection against mould growth.
Nansulate® is new to UK and Ireland and the company is still very much developing, but the product is available to anyone who contacts Nanotech Coatings UK via their website.
About Nanotech Coatings UK Ltd
Nanotech Coatings UK Limited has a staff with over 20 years of experience within the residential, industrial, commercial and retail property sectors. Formed as a main distribution and logistic hub in the UK, strategically situated at London Heathrow, Nanotech Coatings UK Ltd has a highly efficient infrastructure to cater for the market demand across the whole of Europe.
Nansulate® was approved in terms of the European Energy Performance of Buildings Directive certification for building construction standards in the European Union from the UNI EN ISO 8990:1999 tests, in relation to building insulation specifications. Nanotech Coatings UK Ltd has also been provided with a contract with the British Board of Agrement, ("BBA") for tests for the specified use of the product being coating for use on internal walls and ceilings, and external walls in residential dwellings for application over internal plaster and external render.