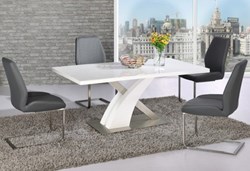 (PRWEB UK) 10 January 2014
The every changing styles and fashion, leaves no space for a static lifestyle. People want changes not only in the way they look and feel but also the way their surroundings look and the way they feel about it. This year the resolutions will not only be to change one 's self but also to change one's home décor and the way it looks. FurnitureInFashion, UK's largest growing furniture store has announced trends that will be popular this year, a gift for people who want a change in their home décor.
The year 2013 was dominated by trends such as the DIY furniture, feel over functionality, prints and color accents, practical storage beds, well designed workstations and mixing the old with new. All these defined majority of the interior décor for homes. In the year 2014, the company predicts that the focus will be on classy and good looking furniture with storage space inside them, bright colored furniture with interesting color combinations, snazzy and pretty wall decals in contemporary design and beautiful light fixtures. The company says that this year the furniture will be smaller, classy, modern, classy and contemporary built in such a way as to provide maximum storage space within it.
People like to feel that they are in an airy environment, so this year, customers should choose furniture that provides ample storage space yet looks elegant and stylish, occupies less space in the rooms and combines the elements of luxury and usability. The leading manufacturer of furniture in the UK predicts that this year customers will choose furniture that has enhanced practical usage, greater functionality and aesthetically pleasing looks. Wall colors will change in 2014, the concept of feature walls, ceiling designs and other types of wall décor will increase. Bright and vibrant colors will dominate in living room and bed rooms. Primary colors, red, blue, green and other bright colors will be used extensively to give the rooms a lively look. Kitchens will have custom made cabinets painted in rich gemstone colors like emerald, amber, ruby etc. and accented with gleaming brass or chrome, all lit by attractive and never seen before lighting fixtures, unique countertops and back splashes. Lighter honey toned woods, such as oaks, walnut and cherry will be used for furniture in contrast to the dark woods used extensively in earlier years.
High Gloss furniture will be in vogue and will be sought after. FurnitureInFashion, itself has around 740 products in high gloss, which suggests that the high gloss furniture will dominate the year 2014. The company achieved the goal of offering the largest range of high gloss furniture for living room and dining room.
Changing trends are motivating the designers at various furniture stores to involve the customers and find out in advance the way they want their homes to look and feel. Designing furniture to suit the current trend will be the first most task at any furniture store. Given the popularity of the largest online furniture store in UK, the increasing number of likes on Facebook, attractive discount offers, trendy and durable furniture at low prices suggests that the company is here to stay and will continue to dominate the online furniture shopping.
Furniture In Fashion not only focuses on style, but on the comfort zone, as well. All these products are manufactured by skilled craftsmen and are shipped from its German-based warehouse. To make the deal more affordable, free shipping services are offered anywhere in UK. On the other hand, all these furnishing products can be availed from another big showroom of Furniture In Fashion, located in Bolton, UK. For detailed information on these products and some additional services, please check the official website at http://www.furnitureinfashion.net.