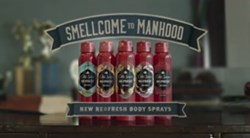 There is no such thing as bad publicity.
(PRWEB) January 11, 2014
In the constant struggle to keep advertising engaging, smart, and fresh, sometimes a company really take a chance and stands out in the advertising world, for better or for worse.
ExploreTalent.com news tracks, Old Spice has just release a commercial for its new Body Spray. This is the first in a series of such commercials, all part of an ad campaign entitled "Smell come to Manhood," according to CNN.com. The narrative drive of the series is that young men who use the Old Spice Body Spray will attract women instantly. This will take the young men's attention away from their mothers, who are distraught over this effect.
The internet buzz about the ad comes from the creative use of some very bizarre effects to implant images of mothers in strange places during romantic encounters between their sons and young women. One of the mothers morphs from a high school janitor, another pops up out of the sand on the beach, and a third appears from under a sofa cushion, then slides along the floor and up onto a couch.
Many internet commentators are calling the commercial a stroke of genius, others are saying it's just plain disturbing and off-putting, but, like a car accident, they can't look away. One thing is for sure: The ad has amassed a huge amount of attention for Old Spice and their product.
As they say, "There is no such thing as bad publicity."