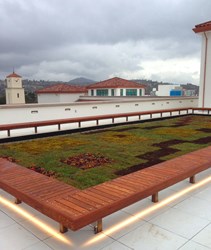 This roof top is unique. All of the storm water runoff, including the green roof area, is directed to 3 large, 50,000 gallon tanks resting below the inner courtyard at ground level.
San Diego, CA (PRWEB) January 11, 2014
A green roof is one of the features of the new Aztec Student Union on the campus of San Diego State University. Installation of the LiveRoof® green roof system provided by Florasource, Ltd. began on November 18, 2013 and was completed within a few days. Members of the media are invited to view the installation by appointment.
Plant selections for the 1,382 square foot green space were based upon tests and previous project experience, using a plant mix that takes into consideration the harsh, roof top temperatures that inland San Diego experiences throughout the year. Plants specifically selected for this project are in the plant genus Sedum, and include species and cultivars that are well-suited to San Diego's Mediterranean climate.
This green roof is just one of the features of this building to certify it under the LEED program, the nationally accepted benchmark for the design, construction and operation of high performance green buildings. Certified LEED buildings cost less to operate and are a physical demonstration of the values of the organizations that own and occupy them.
According to, Beth Chee, Media Relations Manager at SDSU, "While it is not a large green roof area, it looks great in this setting with lush greenery contrasting with white walls and red tile roofs in the background. It serves its purpose as a green roof, reducing water runoff, mitigating heat and being a space for birds and helpful insects; but it also is a great spot for students to sit and do homework, relax, meditate and recharge."
Tom Hawkins, LiveRoof's Southern California rep and owner of Florasource, Ltd. notes, "This roof top is unique. All of the storm water runoff, including the green roof area, is directed to 3 large, 50,000 gallon tanks resting below the inner courtyard at ground level. This water is stored for reuse in the landscape, including irrigation of the green roof as needed."
The first student union, the former Aztec Center built in 1968, was torn down in June of this year with nearly 80% of the construction debris slated for recycling or reuse. The new four-story Aztec Student Union, or "Union" for short, will open in January 2014. It is twice the size of the former student union. The Union will serve as the campus living room for student life. Designed as a LEED Platinum building, this sustainable building has several energy conservation features.
Amenities and services include dining, retail, lounges, meeting rooms, a multi-purpose Montezuma Hall, 300-seat Theatre, outdoor courtyards, bowling and a fitness center. Funding for the $104 million student union comes entirely from SDSU student-approved fees.
To learn more about LiveRoof, visit our website at http://www.liveroof.com or members of the press may schedule an appointment to view the installation by calling or emailing Natalie Linville-Mass at (309) 786-5142 or Natalie(at)livewall(dot)com. You can also download additional pictures and learn more about this project at LiveRoof.com or at Flickr .
About Florasource Ltd. – (http://www.florasourceltd.com) Based in San Clemente, CA, Florasource Ltd. is an independent horticultural supply firm dedicated to providing growers and grower-retailers with both innovative and time-honored young plants for growing. The firm also supplies the design and construction trades, as well as homeowners, with applied horticultural products to support a sustainable existence. Florasource Ltd. is the Southern California Sales Representative for LiveRoof®, the first hybrid green roof system, and partners with Native Sons Wholesale Nursery, producer of the finished LiveRoof modules and the LiveRoof representative for Northern California.
About LiveRoof - Based in Spring Lake, Michigan, LiveRoof®, LLC (http://www.liveroof.com) is the top horticultural science company in the green roof industry. Exceptional in design and function, the LiveRoof® Hybrid Green Roof System is the most refined horticultural solution. LiveRoof establishes a healthy, sustainable ecosystem covering rooftops with seamless vegetation. Licensed regional growers customize plant selection for every LiveRoof project. They deliver the system's modules abundantly vegetated with locally cultivated, full-grown plants for an instant green roof and trouble-free ownership. LiveRoof's natural function and natural beauty offer the highest level of green roof performance with ultra-low maintenance costs. The proof is on the roof — showcased in over 1,000 installations that total nearly 4 million square feet.
About San Diego State University - Founded in 1897, San Diego State University is a public institution of higher education located in southern California. http://www.sdsu.edu/ SDSU is the oldest and largest university in San Diego and the third largest in the state. Programs offered include: nearly 160 undergraduate majors and minors, 16 preprofessional programs and nearly 100 graduate degrees and credentials. SDSU researchers continue to be among the most productive in the nation, securing 799 research grants and contracts worth nearly $145.2 million during the last fiscal year. SDSU has more student Fulbright recipients than any other California State University and is tied with UCLA for third in California behind Stanford and UC Berkeley. Total enrollment is about 30,000 with over 100 countries represented.