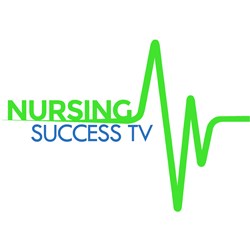 Nursing Success TV is completely dedicated to informing and inspiring America's nurses.
Hunt Valley, MD (PRWEB) January 09, 2014
Since launching in October 2013, Nursing Success TV has been viewed by thousands of nurses across all specialties and experience levels. The online show is formatted to provide nurses with insights and advice from their peers. According to Program Manager, Carol Barber, "We researched what nurses were discussing in online forums and saw that many conversations centered on every day work issues and requests for career advice. We designed Nursing Success TV to focus on those topics with real nurses addressing them."
Each monthly episode of Nursing Success TV features advice from Dr. Phyllis Quinlan, RN and professional nursing coach, who answers questions sent in from nurses across the nation. Covering topics ranging from compassion fatigue to horizontal hostility, Dr. Quinlan pulls from her 30 years in nursing to provide candid, real-world insights. She states, "Nursing Success TV is the only show of its kind, completely dedicated to informing and inspiring America's nurses. From across the profession, I've heard nurses voice enthusiastic support and appreciation for NSTV's mission."
In a regular segment, "Chart Your Future," Dr. Carol Tuttas, RN, discusses what the future of nursing will require from the profession. Outlining how careers in nursing will continue to evolve, Dr. Tuttas shares her insights on the opportunities ahead and what today's nurses can do to prepare themselves to succeed at maximum levels. With a nursing career that's spanned staff, education and leadership positions, Dr. Tuttas, now Director for Enterprise Services at CGNFS International Inc., encourages nurses to pursue higher education as a key part of their career strategies and says, "Investing in advanced education always pays off many times over. It's not easy but it's well worth it in terms of broadening the spectrum of meaningful employment opportunities and earnings potential."
Nursing Success TV also features "One Nurse's Success" in which a working nurse shares his or her views on why nurses matter and tells a personal story that confirms that. "Their stories are profoundly moving and validate that nurses make the difference in the lives of millions. We can be so proud." Dr. Quinlan commented.
Distributed through the nursing associations of the National Healthcare Career Network (NHCN), Nursing Success TV is free, available 24/7, and does not require registration to view. Barber adds, "The NHCN's nursing association partners are very excited about providing Nursing Success TV to their members, numbering nearly 400,000 collectively, and the feedback they're getting confirms that the show is highly valued by viewers. Plus, our stats show that viewers are spending over three minutes per episode, which well exceeds online activity norms."
The fourth episode of Nursing Success TV is scheduled to air in mid-January. If interested in learning how to participate in the show – as an on-air guest, advertiser or sponsor – contact Barber at 850.981.7295, Carol(at)NursingSuccess(dot)TV.