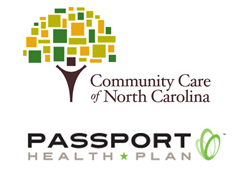 We share a common view of how effective collaboration between providers can benefit patients and taxpayers. Our different, but complementary, competencies will make each organization stronger. -- L. Allen Dobson, Jr., MD
Raleigh, NC (PRWEB) January 13, 2014
A strategic alliance has been formed between Community Care of North Carolina (CCNC), North Carolina's award-winning program that improves care and reduces waste in the Medicaid program, and Passport Health Plan, a Kentucky based, provider- sponsored, non-profit health plan that has managed care for Medicaid beneficiaries in a sixteen county region of Kentucky since 1997.
Aims of the alliance include

Identifying and sharing Medicaid "best practices"
Developing new and innovative approaches to primary care case management
Pooling the organizations' collective knowledge of Medicaid to create greater value for providers, patients and taxpayers in both states
Said CCNC CEO and President L. Allen Dobson, Jr., MD: "As organizations offering a similar community-based, nonprofit approach to Medicaid in each state, we share a common view of how effective collaboration between providers can benefit patients and taxpayers. Sharing our different, but complementary, competencies will make each organization stronger."
Benefits to Passport include CCNC's assistance in the development of a state-wide structure tailored to local market dynamics, and consultation by CCNC on improvements to Passport's provider portal and other strategies to improve return-on-investment for Passport's care management activities. CCNC will also share its expertise in population management technology, analytics and data infrastructure, including risk stratification and predictive modeling.
CCNC seeks Passport's expertise in developing structure, policies, and processes for managing financial risk and in earning NCQA accreditation. Passport also will share with CCNC its deep expertise in developing new, advanced models for provider reimbursement, including shared savings and full-risk programs.
"As we expand our Kentucky operations statewide beginning in January 2014, we think lessons learned by CCNC in building its statewide provider infrastructure and programs can complement Passport's expansion initiatives across the Commonwealth," said Passport Chief Executive Officer Mark B. Carter.
About CCNC
CCNC is a community-based, public-private partnership that takes a population management approach to improving health care and containing costs for North Carolina's most vulnerable populations. Through its 14 local network partners, CCNC creates "medical homes" in all 100 counties for Medicaid beneficiaries, individuals that are eligible for both Medicare and Medicaid, privately-insured employees and uninsured people.
About Passport
Passport Health Plan is a provider-sponsored, nonprofit, community based, Medicaid health plan that currently serves more than 125,000 members in 16 Kentucky counties. Passport has been operating in Kentucky since 1997. The Plan has been consistently rated as "excellent" by the National Committee for Quality Assurance. Effective January 1, 2014, Passport will administer Medicaid benefits for members across 120 counties in Kentucky.