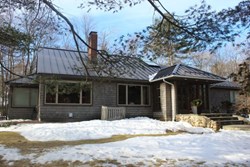 An exceptional installation, especially considering how cold it was.
Stow, MA (PRWEB) January 16, 2014
Although the weather this winter has not been very cooperative for the roofing industry, with snow storms, wind and record low temperatures, Classic Metal Roofs, LLC recently completed an installation of a large residential standing seam aluminum roof. The project, located in Sudbury, MA, featured several custom features and was the largest standing seam metal roofing installation, totaling 5,400 square feet, the company has ever done in that town.
The project in Sudbury proved not only to be the largest roof completed by Classic Metal Roofs, but a roof with a unique and more challenging design: a steep slope, by roofing standards, with multiple planes and with valleys and hips which require special miter cuts.
While the original construction of the house was well built, Classic Metal Roofs replaced the skylights and re-flashed the two large chimneys to accommodate the new aluminum standing seam metal roof. The homeowners chose dark bronze for the color of their new metal roof.
"The project took about 12 work days with our six member crew," stated Mike Gonet, senior partner of Classic Metal Roofs. "It was an exceptional installation, especially considering how cold it was. There were a few lost days due to snow storms in between work days, but that's expected in December."
The company's goal is to always provide the homeowner with "the best roofs under the sun." Classic is family owned and operated and their crew on this project features 90 years of metal roofing experience.
"Our installations are done by our own metal craftsmen and are employees of the company," stated Gonet. "Classic does not believe in using subcontractors. The use of subs usually produces sub-standard results. Our metal roofs are designed and installed to last a lifetime."
This most recent project can be viewed on the company website or on their Facebook page.To learn more about their line of metal roofing and to see examples of their work, visit http://www.classicmetalroofs.com.
About Classic Metal Roofs, LLC
Classic Metal Roofs, LLC, is considered one of the premier installers of metal roofing here in New England. They are in business to provide their customers with a worry-free roofing future. Their caring, consultative approach hinges on their commitment to providing you, the consumer, with a product that is long lasting, durable, energy efficient, and beautiful, and thus considered "the best roofs under the sun." They service all of southern New England: Massachusetts, Southern New Hampshire, Rhode Island and Connecticut.