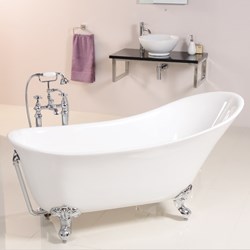 (PRWEB UK) 9 January 2014
Well, Christmas and New Year are over for another year, and most of us are now back at work. But if your festive season, like ours, was pretty full-on, you might still be feeling the need for some relaxing 'me' time.
And if you'd like a more permanent relaxation solution than a weekend away or a trip to a spa (lovely though both of those things are!) then perhaps you'd like to create a relaxing bathroom?
Full renovation
If you have the finances available, a full renovation could see some exciting new additions to your bathroom. As well as indulging in some of the luxuriously proportioned and beautifully finished bathroom suite designs that are available out there, you might also like to bring some spa-like luxury into your own home with a whirlpool bath or steam shower.
Soak in style
Whirlpool baths or spa baths have proven health benefits when used regularly, and they're ideal for soothing away stress as well as tackling aching muscles. It's impossible not to relax when you're cocooned in blissfully warm bubbles! Whirlpool baths are becoming more popular for the home as their prices drop, and they're much easier to install than you might imagine, too.
Steam away your worries
Steam showers can also be highly beneficial for your health: helping to alleviate respiratory infections, circulatory problems, and stress. They're also reputed to be beneficial for the skin (helping to unclog pores), and some people even report that regular steam showers helped them with weight loss.
Shower cabins can be fitted in a similarly sized space to a normal shower cubicle and are totally self-contained: you won't find that your entire bathroom fills up with steam as you shower. You can use them without the steam setting for a quick morning shower, then pull down the internal seat, relax and enjoy the full steam shower experience at the end of a long day.
Design-led relaxation
Room design is very personal and it's all about what appeals to you. But some things are pretty universal: neutral room schemes are calming and make a great backdrop for relaxation. Whether you choose a palette of contemporary greys or one of natural beiges, you'll find that a neutral colour scheme can really help to soothe your senses.
We hope you enjoyed our guide on Creating a Relaxing Bathroom, for more information or to purchase the products featured in this post don't forget to visit the Better Bathrooms website http://www.betterbathrooms.com or http://www.betterbathrooms.com/blog.