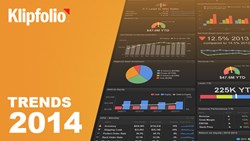 Business dashboards are being utilized by every area of the business.
Ottawa, Canada (PRWEB) January 13, 2014
Klipfolio today weighed in on the trends influencing the business dashboard market in 2014. These trends collectively point to a market that is set to accelerate its rapid growth rate well beyond 2014. At the center of these trends is a cultural shift that is changing not only the way businesses view data, but who in the organization has access to that data.
"A few years ago, dashboards were confined to the C-suite," says Allan Wille, CEO and President of Klipfolio. "Today, business dashboards are being utilized by every area of the business – from sales and marketing teams to the help desk and supply chain. This is directly related to the fact that IT budgets are now sitting in the hands of business users."
Here are Klipfolio's predictions for the top five trends in the business dashboard market in 2014:

Business users will drive dashboard deployments
Full service self-service
Grass roots growth of dashboard deployments
Operational versus capital expenses
Real-time data for the opportunist in you
Find out the top business dashboards trends for 2014 >>
What is Klipfolio Dashboard?
Klipfolio is a platform for creating and sharing real-time business dashboards with data-driven, performance-oriented teams. The key to Klipfolio's success is the ability for users to create custom visualizations from data mashups using Klipfolio's intuitive visualization environment. For example, users can create a chart that integrates data pulled from Google Analytics, Salesforce, and SQL databases to generate truly unique business insights.
About Klipfolio
Founded in 2001, Klipfolio's mission is to increase the visibility of real-time data and key business metrics to help data-driven teams improve the performance and profitability of their organization. Trusted and relied upon by thousands of the best and brightest organizations around the world, Klipfolio is an online dashboard platform for building powerful real-time business dashboards for your team or your clients.