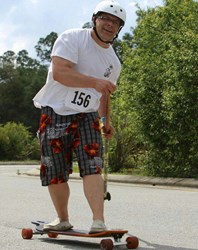 Miami, FL (PRWEB) January 13, 2014
The 24 Hour Ultraskate will be returning to Homestead-Miami Speedway in 2014. On January 20, 2014, both Andy Andras and Colleen Pelech will defend their 2013 UltraSkate titles and records against some of the world's best distance skateboarders. Local City of Miami Fireman, Andy Andras is poised to defend his title and he has been preparing by skating over 100 miles a week for the last 16 weeks.
This year the competition will be as stiff as ever with expected participants to include: Paul Kent, Andrew Andras, William Coale, William Frank, Conan Gay, Colleen Pelech, Rick Schorr, and the "Godfather" of distance Mr. James Peters. Over 50 diehard participants are expected to complete 24 hours alone. For all those that think they are up for the challenge, special edition IDSA 200 mile club Orangatang wheels will be given to all those able to complete 200 miles in a 24-hour time period. Prizes and packs for everyone in attendance. Best of all, the event benefits the "UFPTI for the Children Fund," a charity supporting children with brain tumors and other cancers who are being treated at the University of Florida Proton Therapy Institute (UFPTI). The Fund was created by prostate cancer survivors who were likewise treated at the Institute. Proton therapy is a form of radiation that targets the tumor and minimizes the risk of side effects so patients have the best chance for cure and can go on to live normal, healthy lives.
Already attempting to complete the ultraskate is former UFPTI patient, cancer survivor and Tampa Bay native Herb Mooney.
For more information, registration, or to simply make a donation, visit: http://theidsa.org/portfolio/2014-24-hour-ultraskate-homestead/.
UF Proton Therapy Institute is a nonprofit 501(c)3 organization affiliated with the UF College of Medicine, dedicated to delivering state-of-the-art cancer treatment and setting new standards for treating and curing cancer. The cancer treatment facility houses both conventional radiation and proton therapy, and delivers proton therapy to 110 patients a day. For more information about the UF Proton Therapy Institute, please visit http://www.floridaproton.org, or call toll-free 877-686-6009.
About IDSA
The IDSA's mission is to act as the global governing body to ensure the safety of event competitors by ensuring that route inspection, age grouping and event insurance needs are met; to grow international awareness and participation by demonstrating skateboarding's benefits toward a healthy and positive lifestyle; and to ultimately infuse new energy into skateboarding as a viable and legal mode of transportation. The IDSA can be visited at http://www.theidsa.org.