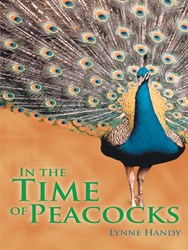 How could they come together again after tragedy—could their love truly be destroyed?
Champaign, Ill. (PRWEB) January 13, 2014
Identity is the essence of an individual, the definition of a life. But what if one's identity is divided by past and present, truth and lies, desires and expectations?
In her stunning new novel, "In the Time of Peacocks," Lynne Handy explores the concept of identity against a tapestry of religion, culture, family dynamics and social unrest.
Handy tells the incredible story of a young woman caught between two worlds. Cate has no early memories of her childhood—only strange images of a blonde woman, a gazebo and farm far away from her home in Mexico. When a tragic twist of fate unravels the secrets of her former life, Cate is reunited with a family that shares her blood, but not her ideals.
As Cate works to carve out her identity in this jarring new world, she discovers her true beliefs and passions as she experiences longing, grief, guilt, forgiveness and the power of love.
"In the Time of Peacocks" powerfully examines provocative themes such as family dysfunction, the challenges of parenthood, racial and religious tensions, sexual identity and societal expectations.
Although a work of fiction, the themes in "In the Time of Peacocks" parallel Handy's personal experiences. Her gritty exploration of the effects of anger, remorse and compassion were inspired by her own series of family tragedies.
"I wanted to explore the dynamics of grief, rage and forgiveness, for it seemed to me that the longer the estrangements went on, the farther people grew apart," Handy said. "How could they come together again after tragedy—could their love truly be destroyed?"
Learn more at http://www.lynnehandy.com/.
In the Time of Peacocks
By Lynne Handy
ISBN: 978-1-4917-0479-0 (sc); 978-1-4917-0478-3 (hc); 978-1-4917-0480-6 (e)
Softcover, $25.95
Hardcover, $35.95
Ebook, $3.99
Approximately 486 pages
Available at http://www.amazon.com and http://www.barnesandnoble.com.
About the author
Lynne Handy is a freelance writer, poet and retired administrative librarian. She has a bachelor's degree in history from the University of Texas at Dallas and a master's degree in library and information science from the University of Illinois. She is a member of the Osher Lifetime Learning Institute (OLLI), Kentucky State Poetry Society, Academy of American Poets and the Association of Writers and Writing Programs. Handy is a Pushcart Prize nominee and has published works in Larks Fiction Magazine, Memoir Journal and the Kentucky State Poetry Society's Pegasus. She lives in Champaign, Ill., where she is currently writing her next novel, a mystery about murder and mayhem in the north woods.