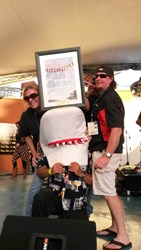 Destin, FL (PRWEB) January 09, 2014
Landshark's Pizza Company is proud to announce that they have won the first place People's Choice Award at the Destin Harborwalk Blues, Brews & BBQ contest. The award was given for their James Famous Smoked Pulled Pork Butt Sandwich.
The contest, which took place Nov. 9, included 23 other restaurants from the Destin, FL area. Second place went to Grande Vista The Emerald Grande and third place was taken by Tucker Duke's Lunchbox & Market. Landshark's Pizza Company donated their winnings to the Mary Lynn Burnett Foundation.
The sandwich for which Landshark's Pizza Company took first place has a homemade spicy shark sauce on top of "Shark Slaw." This sweet and spicy coleslaw includes yellow raisins and jalapeno peppers.
For more information about Landshark's Pizza Company, visit their website at http://landsharkspizzaco.com/.
About the company:
Brian and Sue Hassman have created the locals' favorite pizza, Buffalo wings and sports pub in Destin, FL. They had the vision to create something rarely seen anywhere across the country. Their local sports bar serves both great pizza and awesome wings. This was a dream of Hassman's from the time he graduated from the University of Minnesota in 1991. He then had the opportunity to travel the country over the last 20 years checking out great pizza and wing joints and sports bars. The Hassmans also wanted to create an atmosphere where everybody is greeted and shown great customer service, like a local "Cheers" tavern. If Hassman doesn't know a customer's name, he soon will.
Landshark's Pizza Company will play any sports game a customer wants. They have almost every Direct TV sports station, including BTN Network and the NFL Sunday Ticket. In addition, the wings at Landshark's don't just have a normal mild and hot sauce. They have 22 sauces and rubs. They also use a proprietary dough blend that makes their pizza unique. To learn more about Landshark's Pizza Company, visit http://landsharkspizzaco.com/.