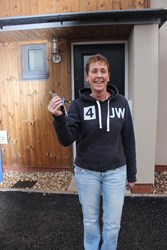 Tiverton, Devon (PRWEB UK) 9 January 2014
Devonshire Homes has reported the sale of 12 open market new homes from Phase 1 of its Gilbert Scott Way residential development.
The development, on the former Belmont Hospital site in Tiverton, attracted £2m in investment through the Homes and Communities Agency's Get Britain Building scheme and comprises a mix of affordable and open market homes. Included in the first stage of completions are 12 affordable homes that have been sold to the Devon and Cornwall Housing Association, and of the 12 open market homes 4 have been purchased under the Help to Buy scheme.
Donna Hill bought her 2-bed home at Gilbert Scott Way before the first bricks were even laid on the foundations. She was also the first to move in when the first homes in the build were completed in late November.
"I've lived in Tiverton all my life and wanted a brand-new home with all the guarantees that offers," said Donna. "As soon as the site opened I was there, and all I saw was a floor plan and illustration of what the house would look like.
"I can honestly say love it! It feels like home already. It's going to be a really nice complex when it's complete, and I'm looking forward to seeing everything come together."
Jane Pearce, Sales Manager at Devonshire Homes, said: "We are delighted to welcome so many new residents into their new homes and encouraged by the interest the development is receiving from a range of buyers. We have just released further 2-bedroom homes for which we have a waiting list. Thirteen more homes will be ready for occupation between January and April and further releases from the second phase of the development are due in Spring 2014."
Steve Russell, Managing Director at Devonshire Homes, added: "Gilbert Scott Way is a prime example of how vacant sites can be converted into much-needed housing to make the most use out of previously developed land. As well as new homes there will be a range of apartment conversions within the Grade 2 listed buildings."
Steve Jackson, HCA Area Manager, said: "This project is playing a key part in the wider regeneration of Tiverton town centre by bringing new and affordable homes to the area.
"We have worked closely with partners over recent years to bring this development forward in the face of the economic downturn. It's great to see local people like Donna are now benefitting from partners' investment and I am sure that others will welcome the progress that has been made in regenerating this important part of town."
Work has already started on phase three of the development to convert the existing main building into apartments and the removal of the neighbouring derelict Twyford building.
In total, the development will provide 103 new homes and is scheduled for completion in March 2015. Overall the scheme is expected to contribute to the wider regeneration of Tiverton town centre.