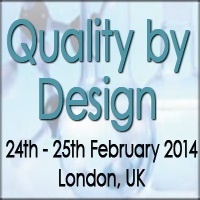 London (PRWEB UK) 9 January 2014
"Pharma-Chem and bio-pharma development and production are now being profoundly influenced by the FDA PAT initiative with spectroscopic instrumentation being increasingly applied, or at the very least explored in product and process development and for on-line real-time process applications. The issues related to robust spectroscopic data analysis and calibration modelling and maintenance becomes even more important if PAT is to be widely accepted and applied, especially for the large number of SMEs involved in supplying intermediates and APIs, and in pharmaceuticals manufacturing." - http://www.europeanpharmaceuticalreview.com/1201/european-pharmaceutical-review-magazine/past-issues/from-data-to-knowledge-through-smart-process-analytical-technologies-pat-and-process-systems-engineering/
On this topic Mr Julian Morris, Technical Director, Centre for Process Analytics & Control Technology will be presenting at SMi's 2nd Quality by Design conference about Transforming data into knowledge to support PAT and QbD:
•Variability challenges facing the implementation of PAT in R&D, QbD and production
•How multivariate data analysis and modelling can lead to process and product know-how
•How to use multivariate data analysis to provide enhanced production performance and optimise pharmaceutical processes
•How PAT and data analytics can be more usefully used in early development and scale up
Julian Morris is Emeritus Professor of Process Control at Newcastle University and Visiting Professor in the Department of Pure and Applied Chemistry at the University of Strathclyde
and Director of the Centre for Process Analytics and Control Technology (CPACT). His research interests include process diagnostics and condition monitoring, process performance monitoring, process analytical technologies, neural networks, and advanced process control and optimisation. He has authored/co-authored over 200 articles in scientific journals, conferences and books, given over 100 invited lectures, and 50 Plenary and Keynote presentations. In 2003 he was elected to Fellow of Britain's Royal Academy of Engineering for his contributions to Process Systems
Engineering.
For more information on the conference, speakers and presentations, please visit our website.
Also attend a half-day post-conference workshop on Successfully Implementing Quality by Design: An introductory Workshop QbD and PAt, hosted by Peter Bogaard, Founder, Industrial Lab Automation