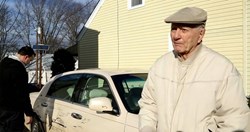 I don't have collision insurance, so this award is a real blessing. -- Joseph Sipia, World War II Navy veteran
Trevose, PA (PRWEB) January 09, 2014
Joseph Sipia, a 92-year-old World War II U.S. Navy veteran, has been named the latest winner of CollisionMax's Metal of Honor project.
Free of charge, CollisionMax of Sicklerville, NJ, will repair Mr. Sipia's "dream car," a metallic ivory 1998 Lincoln Town Car, which bears damage suffered in a parking lot scrape with an armored car last month.
"I don't have collision insurance, so this award is real blessing," said Mr. Sipia. "All my life I wanted a luxury car, and I finally bought one fifteen years ago," when he was 77 years old, he added. Both right-side doors were severely damaged when Mr.Sipia drove past an armored car parked in front of a supermarket and ran against its protruding safety arm.
Born and raised South Philadelphia, Mr.Sipia enlisted in the U.S. Navy in 1944. At the time, he was a tool and die maker at the U.S. Army's Frankford Arsenal in Northeast Philadelphia, which manufactured artillery and bomb fuses, and had been granted a deferral from the draft.
"But by 1944, they were running out of men to draft, so they lifted our deferrals," he explained. "They gave me a choice of between the Army and the Navy. I had two friends in the infantry in the Pacific, and I didn't want to sleep in the mud, so I chose the Navy."
Mr.Sipia said the brother of a friend of his died on the Bataan death march, in which tens of thousands of US soldiers captured by the Japanese on Corregidor Island were forcibly marched 80 miles to a prisoner of war camp. "I had that in the back of my mind when I chose the Navy," he said. "Just like the rest of the country, I wanted to pay the Japanese back."
After receiving training as an electronics technician, he was stationed at the U.S. Navy base at Subic Bay in the Philippines, where he serviced smaller warships that didn't have their own onboard technicians. "I worked with sonar and radar, which was all highly classified," he said.
He was discharged from the base in March 1946 as a Petty Officer 3rd class, and returned home to Philadelphia. Three months later, he went back to work at the Frankford Arsenal, and was promoted to the engineering design department. He worked there, traveling to military bases all over the country, until it was closed in 1975.
Mr. Sipia is the eighth winner of CollisionMax's Metal of Honor Award. Through the project, CollisionMax will give away auto body repairs to 12 U.S. military veterans, one per month for each of its 11 locations in the Delaware Valley, and one for its mobile GlassMax auto glass repair service. The company chooses the winner from nominations it receives from the public on the project's web site, http://www.metalofhonorproject.com.
"The Metal of Honor Project is our way of saying thank you and honoring the men and women of our armed forces who put their lives on the line for all of us," said Jim Tornetta, CollisionMax and president and CEO.
In New Jersey, CollisionMax operates shops in Blackwood, Cinnaminson, Glassboro, Marlton, Pennsauken, Sicklerville and Westmont. In Pennsylvania, it has repair centers in Oxford Valley, Warminster and two in Northeast Philadelphia (both on West Grant Avenue). For information about ColllisionMax, please visit http://www.collisionmax.com.