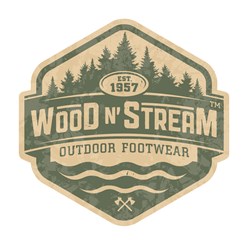 Merrill, Wisconsin (PRWEB) January 10, 2014
Established in 1892, Weinbrenner Shoe Company is a household name for superior comfort and craftsmanship, and its heritage Wood N' Stream brand is known for bringing innovative designs and performance technology to its outdoor boots. This year, Wood N' Stream introduces new waterproofing technology across all of its lines, an expanded made in the USA offering and an entirely new series. The new Wood N' Stream fall 2014 collection will be debuted at the Shooting, Hunting, Outdoor Trade (SHOT) Show from January 14th-17th in Las Vegas, Nev., where it will be exhibited with Weinbrenner at booth #20040.
"Since its introduction over 60 years ago, Wood N' Stream has offered sportsmen high-quality boots of superior value, melding American tradition with innovative technology to create a product that is the best in the industry," said Patrick Miner, president of Weinbrenner Shoe Company. "Seen for the first time at this year's SHOT show, Wood N' Stream's new collection embodies our traditional values while demonstrating our strive for innovation."
New for fall 2014, all Wood N' Stream boots will incorporate Scotchguard Defender waterproofing technology that allows for breathability, but prevents mud from caking on the boots. All Wood N' Stream boots are also made with varying degrees of 3M Thinsulate Ultra Insulation, so outdoorsmen can choose the proper level of warmth depending on the weather conditions.
This year, Wood N' Stream is excited to announce that it will offer a limited edition of the original Wood N' Stream boot, first created in 1957. This vintage design will be given style number 1957 in honor of the year Wood N' Stream was established. Made in the USA, this boot even has the original Wood N' Stream label. Like all Wood N' Stream boots, the #1957 is built to last, but Wood N' Stream offers yearly cleaning and refurbishing.
In addition to the #1957, Wood N' Stream is also proud to introduce its expanded American Heritage Collection. New for fall 2014, the popular Kangaroo boot will be available in Sandalwood Brown in addition to the traditional Loden Green. Also added to the American Heritage collection will be the new American Legend style, which has a chic rugged look that is perfect for any outdoor pursuit.
At SHOT, Wood N' Stream also introduces a new side zip version of the Flyway Series' English-style boot, as well as a brand new Snake Bite patterned boot. The ELX Series will also be expanded in 2014, with four new styles made with the Vibram Outsole.
Finally, the Wood N' Stream fall 2014 collection will include the brand new Maniac Line. Boots in the Maniac line include a unique interior lacing system that utilizes an "exo-skeleton" across the foot to ensure a more secure, comfortable feel. These boots are made with the avid hunter in mind, and have a blaze orange label as a nod to the traditional orange hunting gear.
To learn more about Wood N' Stream and to see the fall 2014 collection, please stop by booth #20040 at the 2014 SHOT Show, and to learn more about the brand, please visit http://www.weinbrennerusa.com.
###
About Wood N' Stream:
Established in 1957, Wood N' Stream is a brand of outdoor footwear made by Weinbrenner Shoe Company, based in Merrill, Wisconsin. Wood N' Stream offers a wide range of boots for any outdoor pursuit, with a variety of lines, including the American Heritage collection that is made in the USA, the Inceptor Series, Instinct VGS Series, ELX/LTT Series, Cold Weather Series, Flyway Series, and the new Maniac hunting line. Leveraging Weinbrenner's extensive industry experience, Wood N' Stream offers proven comfort and performance technologies, including Goodyear welt construction, 3M Thinsulate Ultra Insulation, Scotchguard Defender waterproofing, and Visible Gel System insole.
http://www.weinbrennerusa.com