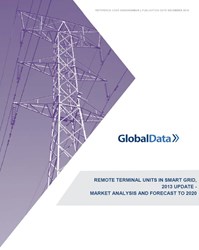 Rockville, MD (PRWEB) January 14, 2014
Remote Terminal Units in Smart Grid, 2013 Update - Market Analysis and Forecast to 2020
GlobalData's report "Remote Terminal Units in Smart Grid, 2013 Update - Market Analysis and Forecast to 2020" provides an analysis of the global market for remote terminal units with insights on key countries such as the US, Canada, Mexico, Malaysia and Indonesia. Monitoring and control technologies are key enablers for improving the efficiency of the grid. Frequent monitoring of power flow in the grid will help keep vigil on the condition of the grid and take necessary actions when required.
The equipment required to collect data from sensing, measuring and other equipments is known as a Remote Terminal Unit (RTU). The global market for RTUs is expected to grow at a moderate rate, as most of the major countries' markets are at the stage of saturation. The report covers market factors for the RTUs such as drivers, restraints and pricing besides providing a brief overview on the RTU technology and comparison of product from different vendors. The report provides brief profiles of key RTU vendors such as ABB Ltd., General Electric Company, Schweitzer Engineering Laboratories, Inc., Siemens AG and Schneider Electric.
To order this report:
Remote Terminal Units in Smart Grid, 2013 Update - Market Analysis and Forecast to 2020
Contact: Shauna
800.298.5699
Customerservice(at)marketresearch(dot)com
GlobalData
GlobalData is the premier source of actionable insight into the energy and healthcare industries. With the combined expertise of more than 1,000 researchers, market analysts and consultants, we provide high-quality, accurate and transparent industry insight that helps our clients to achieve growth and increase business value.
About MarketResearch.com
MarketResearch.com is the leading provider of global market intelligence products and services. With research reports from more than 720 top consulting and advisory firms, MarketResearch.com offers instant online access to the world's most extensive database of expert insights on global industries, companies, products, and trends. Moreover, MarketResearch.com's Research Specialists have in-depth knowledge of the publishers and the various types of reports in their respective industries and are ready to provide research assistance.
Follow us on Facebook: http://www.facebook.com/marketresearchdotcom
Follow us on Twitter: http://www.twitter.com/marketresearch_
Remote Terminal Units in Smart Grid, 2013 Update - Market Analysis and Forecast to 2020 - Table of Contents:
1 Table of Contents
2 Introduction
3 Remote Terminal Units Market, Global, Overview
4 Remote Terminal Units Market, Key Country Analysis, 2011-2020
5 Remote Terminal Units: Technology Overview
5.1 Remote Terminal Units Market, Type of Remote Terminal Units by Application
5.1.1 Remote Terminal Units for Transmission Substation
5.1.2 Remote Terminal Units for Distribution Automation
5.2 Remote Terminal Units Market, Software for Remote Terminal Units
5.3 Remote Terminal Units Market, Type of Communication Technologies
5.4 Remote Terminal Units Market, Global, Technology Trend
5.5 Remote Terminal Units Market, Technical Vulnerabilities