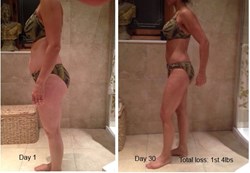 The online weight loss plan is easy to follow, exercises can be done at home and the food is simple to prepare. People who sign up join an active online community of fellow members which is fantastic for support and motivation.
London (PRWEB UK) 10 January 2014
New Year means resolutions and for a lot of people this means getting fit and losing weight. Celebrity personal trainer and fitness guru, Ollie Oxley, has developed the perfect solution, a revolutionary online 30-day fat burning and weight loss programme which he runs online.
Launched in December, the online weight loss and fitness programme is known as the OPTO plan. Ollie offers a personal service to his customers via private Facebook support forums. Customers receive a full meal plan for 30 days, shopping lists, a complete exercise programme, access to demonstration videos, and advice from Ollie on how to maximise their 30-day weight loss plan.
Sarah Clerk who completed the 30-day online weight loss plan in December says, "I signed up to the plan so I could slim down to get in to a party dress and it really worked. I loved the food, and the exercises were easy. I was a chocoholic before doing the plan and now I never touch it, something I never thought I would say! I lost one stone,three pounds in 30 days which I was more than happy with. I am now doing the follow on plan which is eight weeks long so I can shift a bit more before going on to maintenance. I want to be in a bikini for the summer."
Customers who are on the plan are encouraged to motivate and support each other in an exclusive online community. They upload pictures showing their progress and also share pictures of their food giving each other ideas and advice to stay on track.
"I have been working on the 30-day plan for a long time and it is great to see the results it is getting. It is a fantastic feeling knowing that I'm changing people's lives and transforming their body from something they hate to something they love and making them healthy. The weight loss plan is great, as anyone can do it regardless of age, ability or gender. I hope that it will help people stay on track with their New Year's resolutions and get people the summer bodies they want."
#ends#
Ollie Oxley is a qualified personal trainer with celebrity clients, he qualified with a BSc Degree from Brunel University in 2001 and has been passionate about diet and exercise ever since. His main drivers are getting people fit and healthy, and helping people overcome their confidence issues and barriers.