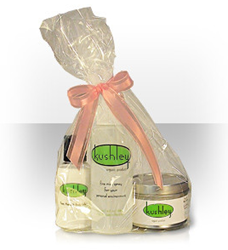 (PRWEB) January 09, 2014
Kushley is a brand of pure and organic odor-eliminating products such as topical crèmes, soy candles and fine mist sprays that can effectively eliminate any unwanted odors. With Kushley's compassionate line of products, patients will never mask in unwanted odors again! As an organic and powerful odor eliminating line of products, this company is an established alternative brand that provides consumers and patients alike with the essential solutions for getting rid of all organic-based odors.
Unlike the stigma that has been placed on this type of industry or specific niche, Kushley serves as an ambassador that is available to help individuals with medical marijuana recommendations from falling under any negative stereotypes. The brand's consumers are those suffering from conditions such as cancer, multiple sclerosis, arthritis, chronic pain or any other chronic and debilitating health condition. While these medical marijuana patients are already suffering from the frequent bouts of complications from a condition, the last thing these individuals will want is to be looked at in a different manner for a specific choice of treatment.
The creators of Kushley are considered absolute pros within this industry and have been recognized as distinguished environmental and organic odor-control consultants for the last thirty years. Believe it or not, this product was originally formulated in order to help patients who were going through chemotherapy. When a cancer patient is in treatment and lives in a state where medical marijuana is deemed legal, the odor eliminating effects of Kushley's organic products manage to work on all facets of the patients' personal environment. Since then, these products have been used in hospitals, healthcare facilities, assisted living clinics and personal places of residence throughout the Continental United States and beyond.
Kushley understands that battling any type of disease is hard enough as it already is. Patients should not have to battle any unwanted odors on top of that, right?
Some individuals who use medical cannabis go to extensive lengths to cover up the smell that others frown upon. Then, there are other people who prefer that no one knows they're going through chemo and smoking marijuana as part of their cancer treatment. Regardless, this is a compassionate brand that not only understands being sick is hard enough, and a patient's body odor or treatment odor does not have to be an issue but also understands the importance of giving back by supporting and donating a portion of every sale to The Chemotherapy Foundation.