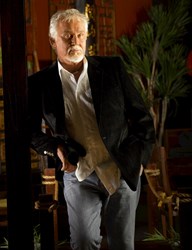 Phoenix, Ariz. (PRWEB) January 11, 2014
Just last month, American icon Kenny Rogers was voted into the Country Music Hall of Fame. On Tuesday in Phoenix, he'll pick up another career achievement, but this time it's in recognition of his other talent and passion—photography.
On Tuesday, he's coming to Phoenix to pick up an honorary master of photography degree from Professional Photographers of America (PPA) at its annual conference, Imaging USA. Rogers will pick up his degree at the PPA Award & Degree ceremony, Tuesday night in Symphony Hall, where more than 145 award and degree recipients will be honored, including several from Arizona. Prior to the ceremony, he'll also give an exclusive live Q&A with convention-goers. He'll discuss his life and work as well as present his new photography book, Places I've Been, Things I've Seen.
Imaging USA, the longest-running photography convention and expo in the nation, runs Sunday, Jan. 12, through Tuesday, Jan. 14, at the Phoenix Convention Center. Up to 10,000 photographers are expected to attend, seeking education, inspiration, networking, exclusive parties and one of the nation's largest photography trade shows to help boost their business for the year ahead. The estimated economic impact for Phoenix is roughly $10 million.
Highlights of the convention include more than 100 speeches, presentations and hands-on demonstrations by some of the most respected names in the photographic industry. Several photography exhibits will be on display, including a Kenny Rogers exhibit, the International Photographic exhibit, the World Photographic exhibit, showcasing the year's award-winning images and more. The expansive tradeshow features 600+ booths of the biggest brands in the industry allowing guests to shop and demo their latest products and services.
The event will also feature the inaugural presentation of the World Photographic Cup (WPC) on Monday night at 7:15 p.m. Twenty-three countries from all over the globe formed teams to participate in the first-ever WPC, an event geared to unite photographers in a spirit of friendship and cooperation, and crown the best photography in the world.
Guests can still attend for the full convention or single day passes online. There is also a free expo pass option available, which does not include access to classes or parties. For a full schedule and complete information on pricing options, visit imagingusa.org.
About PPA
Professional Photographers of America (PPA) is the largest international non-profit association created by professional photographers, for professional photographers. Almost as long-lived as photography itself, PPA has roots that date back to 1869. It assists close to 27,000 members through protection, education and resources for their continued success. See how PPA helps photographers be more at ppa.com.