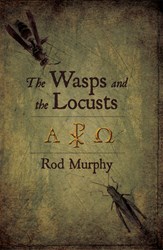 Minneapolis, MN (PRWEB) January 11, 2014
It is easy for people to be swept up in the superficial aspects of life and turn away from their faith. This folly does not come without consequences, and a person's devotion and commitment to God can be put to the test. The Wasps and the Locusts is a new work of Christian fiction that uses anthropomorphic characters to tell a story of faith, perseverance, and redemption in the face of spiritual judgment. The Wasps and the Locusts, a novel of Orwellian nature, was inspired by the Old Testament Book of Joel in which God sent a locust invasion to punish those who turned away from Him. This book will be available everywhere books are sold in December.
The Wasps and the Locusts' main character, Amanda, is a homeless northern paper wasp queen who finds herself living among a colony of grey wasps with a culture and faith much different than her own, in a land ravaged by drought and pollution. When she learns of God's impending locust invasion sent to destroy her new sanctuary, she finds herself struggling with the task of preparing the colony for survival and her commitment to God when her own survival is threatened. Her mission is jeopardized when she discovers the colony is rift with internal strife and absorbed in mechanical worship of their Goddess.
Modeled after the Book of Joel, The Wasps and the Locusts exemplifies God's forgiveness in the face of destruction and his glory after punishment. Will Amanda discover the clue to finding her own redemption, or will she peril with the rest of the colony?
Author Rodney Murphy based The Wasps and the Locusts on the Book of Joel, Biblical commentaries, and his studies of insects, all of which helped develop his understanding of his characters. The Wasps and the Locusts will no doubt bring readers back to the roots of their faith.