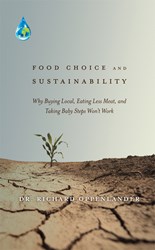 "Dr. Oppenlander's remarkable book clearly makes the case imperative … We must raise our awareness and make ethical and moral food choices." — Jon Stryker, President and Founder, Arcus Foundation
(PRWEB) January 11, 2014
Current eating choices are killing the human race and the planet, and many of the effects are imminent and irreversible. In light of the burgeoning global human population (expected to near nine billion by the year 2030) and the finite nature of Earth's resources, it is critical for people to actively pursue a lifestyle of conservation, protection, and preservation of planet Earth—and seek accurate, unfiltered reality driven information to support sustainability efforts in this regard. In his new book, Food Choice and Sustainability: Why Buying Local, Eating Less Meat, and Taking Baby Steps Won't Work, Dr. Richard Oppenlander compels readers to take a long look at how their food choices affect the climate, the availability of land and freshwater, the health of our oceans, the rapid extinction of other species, world hunger, and the future of our civilization. Ellen DeGeneres selected Dr. Oppenlander's first book, Comfortably Unaware, as a "Must Read" on Books Ellen Reads. Food Choice and Sustainability is available everywhere books are sold.
Food choice affects all areas of global depletion, and once the process of global depletion gains momentum, it will instigate economic and environmental collapse. One thing is clear: sustainability is needed for the survival of civilization. However, there is widespread misconception when it comes to actually defining "sustainability." This is where Dr. Richard Oppenlander comes in. Food Choice and Sustainability clearly delineates an unerring path toward achieving sustainability by filling in blanks, connecting dots, and providing a prescription for individuals, institutions, businesses, communities, and policy makers.
In the wake of his bestselling and award-winning debut book Comfortably Unaware, Dr. Richard Oppenlander continues the conversation on how lifestyles and food choices affect the greater environment. With a focus on revealing insidious disconnects with current attempts to achieve sustainability, Dr. Oppenlander stresses properly positioning food choice, the urgency of various time lines, and presents numerous unique perspectives as he guides society toward a higher level of "relative sustainability". Oppenlander encourages readers to make a fundamental change in their lives and to do it today. A must-read for all seeking to live a meaningful life, Food Choice and Sustainability uses logic, research, and real-life events to raise the level of awareness about food choice as it relates to sustainability and, ultimately, the survival of the human species.