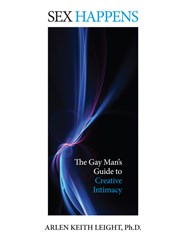 Ft. Lauderdale, Fl (PRWEB) January 11, 2014
Bursting through a crowded field of heterosexual self-help books comes Sex Happens: The Gay Man's Guide to Creative Intimacy. There are no Venuses or Mars to deal with here — Sex Happens is an honest, candid guide for gay couples and single men looking to get out of a sexual rut or pattern of failed intimacy. By exploring important aspects of self-awareness, what arouses desire and how men communicate with each other, Sex Happens helps gay men get the sex they want by being honest and attentive with their partners.
Sex Happens delves headfirst into overcoming intimacy barriers and social obstacles unique to gay couples, helping them find the passion they're missing. Sex Happens doesn't shy away from the hard questions, like whether a monogamous relationship is best, how to deal with sexual incompatibility, what sparks desire for both partners, and how sexual passion in a relationship has evolved or dissolved over time.
Through dialogues, scenarios and sexual exercises, Sex Happens guides gay men looking to revive their intimate lives by encouraging honest, insightful conversations between partners. Perfect for a couple to read and discuss together, each segment concludes with helpful discussion questions, relationship exercises, and dialogue guidelines. Great for therapists, too, who work with gay male couples, providing step-by-step techniques for helping men resolve sexual and emotional blocks to intimacy.