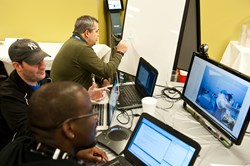 It was cool to see what our fellow employees could achieve in 23 hours. I think the projects were pretty innovative and have intrinsic value.
Oxford, MS (PRWEB) January 09, 2014
In FNC's first hackathon, dubbed The Forge, 11 teams of software developers worked around the clock Dec. 19-20, competing to create a product that will most benefit the mortgage technology company.
Each team presented its ideas after 23 hours of work to a panel of judges that included two company founders -- Bob Dorsey and John Johnson -- along with Chief Operating Officer David Grimes, Chief Strategy Officer Mike Mitchell, and Director of Support Operations Kim Taylor.
First place winners were Sarah Odom and Dan Nemesek. Courtney Humphries and Srini Rao took second place and Jason Verlangieri, Robbie Dahl and Dwain Richardson came in third.
"I think The Forge reinforced our commitment as a company towards innovation and I liked the whole challenge of it. Would we finish? How long could we go without sleep? …," Nemesek said. "It was cool to see what our fellow employees could achieve in 23 hours. I think the projects were pretty innovative and have intrinsic value that will benefit FNC. I was wowed by what everyone was able to do in such a short time frame."
"All the teams were winners in the eyes of FNC," Grimes said. FNC will build out some of the products invented during The Forge, but for competitive reasons, details about the products and their uses are not being released at this time.
"The Forge showed everyone at FNC what can be accomplished with lots of focus, energy drinks, and the love of technology," Odom said. "I got involved in the Forge because I hoped it would be a great opportunity to create something new. I saw it as part endurance challenge and part a chance to focus on a new goal, taking a break from my everyday work to solve a fun problem.
"It was a lot of fun getting to experiment with new technologies and come up with a user-friendly way to really use the information we were analyzing," she continued. "I really love being part of a company that celebrates team work and fun in the workplace – a company that wants to hear its employees' ideas."
In preparation for The Forge, employees were told to think big.
"We have people who are so brilliant and they have these pent-up ideas that they've thought of, but it can be challenging to find the time to work on a new idea when we all are so busy with our daily tasks," said Bethany Cooper, corporate recruitment and talent management coordinator. "Giving employees this defined time to work on their ideas resulted in some really cool products that will either improve our internal efficiency or positively impact our customers' operations."
When asked what the participants took away from the competition, Verlangieri commented, "You wouldn't think a 23-hour grind is recharging, but recharging is about your approach to what you are doing and I believe the people who participated, in any capacity, all felt a sense of renewal and purpose and I imagine that they now look at their everyday routine as a challenge to improve or enhance rather than as a task to complete."
Sponsored by FNC's Employee-Driven Innovation (EDI) Program, The Forge was an effort to jump-start new projects. EDI is FNC's three-pronged approach to initiatives created and led by employees:

FNC Innovation -- projects of an innovative, technical nature that introduce potential for future revenue or cost savings.
FNC Living -- ideas that speak to employee needs and the company's culture and work environment such as employee recognition, green efforts, and workplace stress relief.
FNC Giving -- FNC's community outreach initiative, code name "Hero."
Any FNC Innovation projects initiated during The Forge can become an official 80/20 project, meaning 20% of an employee's regular work week can be allocated toward working on the project. So, essentially, that's four work days spent on FNC business and one work day spent on a personal project that could ultimately benefit FNC.
-30-
About FNC
FNC® revolutionized real estate collateral information technology. Since the mid-1990s, FNC has offered solutions that automate appraisal ordering, tracking, documentation and review for lender compliance with government regulations. FNC's clients have realized reduced costs and more efficient loan processing. With its Collateral Management System® (CMS®) and collateral-focused data and analytics, FNC provides advanced insight into the property backing a loan from origination to capital markets. No one understands real estate collateral better than FNC. Visit FNC online at http://www.fncinc.com and read our blog at http://www.collateralvision.com.