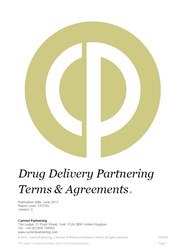 Rockville, MD (PRWEB) February 21, 2014
Drug Delivery Partnering Terms and Agreements
The Drug Delivery Partnering Terms and Agreements report provides comprehensive understanding and unprecedented access to the drug delivery partnering deals and agreements entered into by the world's leading healthcare companies. The report provides a detailed understanding and analysis of how and why companies enter drug delivery partnering deals. The majority of deals are discovery or development stage whereby the licensee obtains a right or an option right to license the licensors' drug delivery technology. These deals tend to be multicomponent, starting with collaborative R&D, and commercialization of outcomes.
Understanding the flexibility of a prospective partner's negotiated deals terms provides critical insight into the negotiation process in terms of what you can expect to achieve during the negotiation of terms. Whilst many smaller companies will be seeking details of the payments clauses, the devil is in the detail in terms of how payments are triggered – contract documents provide this insight where press releases do not.
This report contains over 2,600 links to online copies of actual drug delivery deals and contract documents as submitted to the Securities Exchange Commission by companies and their partners. Contract documents provide the answers to numerous questions about a prospective partner's flexibility on a wide range of important issues, many of which will have a significant impact on each party's ability to derive value from the deal.
To order this report:
Drug Delivery Partnering Terms and Agreements
Contact: Shauna
800.298.5699
Customerservice(at)marketresearch(dot)com
Current Partnering
Current Partnering is an online provider of best practice, business information and intelligence for dealmakers. Current Partnering publishes a series of reports, providing access to critical decision making and best practice intelligence from leaders in business development and licensing.
About MarketResearch.com
MarketResearch.com is the leading provider of global market intelligence products and services. With research reports from more than 720 top consulting and advisory firms, MarketResearch.com offers instant online access to the world's most extensive database of expert insights on global industries, companies, products, and trends. Moreover, MarketResearch.com's Research Specialists have in-depth knowledge of the publishers and the various types of reports in their respective industries and are ready to provide research assistance.
Follow Us On Facebook - http://www.facebook.com/marketresearchdotcom
Follow Us On Twitter - http://www.twitter.com/marketresearch_
Drug Delivery Partnering Terms and Agreements - Table of Contents:
Executive Summary
Chapter 1 – Introduction
Chapter 2 – Trends in drug delivery dealmaking
2.1. Introduction
2.2. Drug delivery partnering over the years
2.3. Big pharma drug delivery dealmaking activity
2.4. Big biotech drug delivery dealmaking activity
2.5. Most active drug delivery dealmakers
2.6 Drug delivery partnering by deal type
2.7. Drug delivery partnering by disease type
2.8. Partnering by drug delivery technology type
2.9. Average deal terms for drug delivery partnering
2.9.1 Drug delivery headline values
2.9.2 Drug delivery upfront payments
2.9.3 Drug delivery milestone payments
2.9.4 Drug delivery royalty rates
2.10. The anatomy of drug delivery partnering
2.11. Drug delivery or specialty pharma?
2.11.1. Is specialty pharma the only way for drug delivery?
2.11.2. Best practice for optimizing drug delivery program development
2.11.3. The anatomy of a drug delivery deal
2.11.3.a. Case study 1: Uluru – Oradisc
2.11.3.b. Case study 2: Bayer – MDRNA
2.11.3.c. Case study 3: Endo Pharmaceuticals – BioDelivery Sciences
Chapter 3 – Leading drug delivery deals
Chapter 4 – Bigpharma drug delivery deals
Chapter 5 – Big biotech drug delivery deals
Chapter 6 – Drug delivery partnering contracts directory
Chapter 7 – Drug delivery dealmaking by technology type