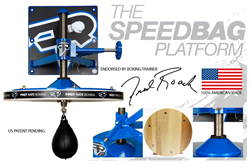 I would recommend this platform for anyone tired of using currently available speed-bag platforms. - Manny Pacquiao
Los Angeles, CA (PRWEB) January 11, 2014
The original Wild Card gym opened with the support of actor-turned-boxer Mickey Rourke in 1994. It is now widely renowned as the greatest boxing gym in the world, having built an internationally known brand as the boxing mecca.
Trainer Freddie Roach is responsible for training over 20 world champions and two Olympic gold medalists.
"I've been around the world and have seen numerous platforms, and this platform design is second to none," Freddie Roach explains. "The First Rate Boxing platform is designed and engineered to meet the requirements of a professional fighter, but is also ideal for the average person. It is durable, safe, easy to adjust and will last a lifetime."
Go Green owns FirstRate Boxing, who has a patented speed bag and is already integral to the training regimens designed by Freddie Roach for many top fighters. The bag is currently used at WildCard Gym.
"Finally a speed bag that works like it is supposed to," Manny Pacquiao says. "The First Rate Boxing speed bag platform is the very best I have hit in my career. It's so easy to adjust and there's no wood vibration, unlike other speed bags that limit my hand speed. I would recommend this platform for anyone tired of using currently available speed bag platforms."
You can see world champion boxer Manny Pacquiao workout on the patented speed bag at Wildcard by visiting this link: http://www.firsterateboxing.com
Boxer Amir Khan agrees. "Absolutely the best speed bag platform I have ever used," Khan says. "Since training with Freddie Roach and using the First Rate Boxing speed bag platform, there's no way I could go back to using other traditional platforms."
Khan continues, "This is such a solid piece of equipment and easy to adjust. There is no need for someone to pull down the wood or put sand bags on top to keep it from vibrating, which slows down your workout. Take my word for it, don't waste your time. Get a First Rate Boxing platform. The best money can buy!"