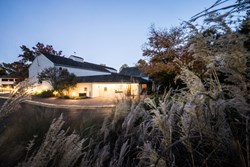 Vienna, VA (PRWEB) January 09, 2014
International Guitar Night
Featuring:
Brian Gore, Italy's Pino Forastiere, Mike Dawes from England, and Quique Sinesi from Argentina
Thursday, January 16, 2014 at 8 pm
Friday, January 17, 2014 at 8 pm
$25-$27
Showcasing extraordinary songwriting and playing skills which demonstrate a high level of both technical ability and musicality, International Guitar Night has become a major force in live contemporary guitar music. This year's version of North America's premier touring guitar festival features guitarists from South America, Italy, England, and the United States.
American "guitar poet" Brian Gore's playing contains a "bounce and spaciousness all his own" (Los Angeles Times). He created International Guitar Night in 1995 and has released multiple albums and books on fingerstyle guitar.
Italian steel-string guitarist Pino Forastiere fuses the classical, contemporary, and rock genres as he "employs a dazzling blend of slapping, tapping, strumming, altered tunings, and harmonics, combined with classical phrasing and a focus on distinct and addictive melodies" (Guitar Player).
English fingerstyle guitarist Mike Dawes has developed a multifaceted repertoire of sound in his short but successful career, fusing Celtic, rock, jazz, and experimental music to create a product all his own. He has gained praise from artists like Gotye, Frank Turner, and Justin Hayward. He released his debut album, What Just Happened?, this past April.
The percussive performances of Quique Sinesi showcase a blend of his global background, drawing from his native Argentina's tango and folklore styles, as well as jazz, classical, and world music.
Video: Acoustic Guitar Playing – Brian Gore
Video: Pino Forastiere – Studio n. 4
Video: Mike Dawes – Somebody That I Used to Know
Video: Quique Sinesi – Otro Día
Ari Hest
Special Guest:
Sarah Siskind
Saturday, January 18, 2014 at 7:30 pm
$25
Ari Hest began performing as a student at NYU in the early 2000s where he developed a storytelling approach to his music and his entrancing stage presence. Hest's newest album, The Fire Plays (2012), draws from 1970s pop and, as he explains, "is full of texture, warmth, and dynamics, and the songs fit together better than any album I've put out." Along with his notable originals "Cranberry Lake" and "Dead End Driving," Hest is known for his prolific covers, including nuanced interpretations of Bruce Springsteen's "I'm On Fire" and Radiohead's "No Surprises." Hest's songs have been featured in TV shows such as Private Practice, Army Wives, and One Tree Hill. He also scored the film Dreamriders, which won numerous independent film awards.
Captivating singer/songwriter Sarah Siskind's perceptive folk music earned her a Nashville Music Award for "Americana Album of the Year" in 2009. Her music has been performed on the TV show Nashville and covered by many notable artists from Bon Iver to Alison Krauss. After going on tour with Bonnie Raitt in 2012, the legend praised Siskind's music as "beautiful and unique" and proclaimed, "she absolutely knocks me out."
Video: Ari Hest – "The Weight"
Video: Sarah Siskind – "Say it Louder"
Sonny Landreth
Cindy Cashdollar
Friday, January 24, 2014 at 8 pm
$27
Revered for his unique slide guitar technique, Louisiana-native Sonny Landreth released his twelfth full length and first all-instrumental album, Elemental Journey, in 2012. AllMusic.com heralded it as "a wonderfully bright, woven mesh of blues, strings, rock, zydeco, country, reggae, and jazz that shifts and turns and builds within each track." Landreth has collaborated with a multitude of rock legends, including Jimmy Buffett and Eric Clapton. He has also been a regular performer at Clapton's Crossroads Guitar Festival since its inception in 2004.
Steel guitarist Cindy Cashdollar has been part of numerous bands throughout her career, the most prominent being Asleep at the Wheel, with whom she won five Grammy Awards. In 2011 Cashdollar was the first woman to be inducted into the Texas Steel Guitar Hall of Fame. The following year, she was inducted into the Texas Music Hall of Fame.
Video: Sonny Landreth – "Forgotten Story"
Video: Cindy Cashdollar on Guitar
Paul Cebar Tomorrow Sound
General Admission Dance
Saturday, January 25, 2014 at 7:30 pm
$25
These cosmopolitan rockers provide lively performances through a panoramic blend of African, Latin, and Caribbean-inspired jams. The band's 2013 album They Like Me Around Here features NPR personality David Greenberger and his storytelling mastery. The band recently raised nearly $20,000 through a Kickstarter campaign to fund their upcoming album Fine Rude Thing, which they describe as a "toothy, rambunctious, concentrated exploration of rock 'n' soul verities that grooves and sways like all get-out."
Video: Paul Cebar Tomorrow Sound – "Didn't Leave Me No Ladder"
Maceo Parker
Sunday, January 26, 2014 at 7:30 pm
$40-$45
Maceo Parker is the explosive funk and R&B saxophonist whose indefatigable playing is a centerpiece of groundbreaking music by James Brown, George Clinton, and Prince. On his 2012 album Soul Classics, Parker plays the sax and sings in funky tributes to Aretha Franklin, Stevie Wonder, Ray Charles, and more in arrangements that are "stellar, fluid, and grooving to the point where toe tapping, singing, and dancing along is inevitable" (AllMusic.com). Parker, who is one of the most sampled musicians in the world, received a Pioneer Award from the Rhythm and Blues Foundation for his contribution as a sideman to the genre of R&B in 2003. He has also played with George Clinton and the various incarnations of Funkadelic, Parliament, and has collaborated with Ani DiFranco, Dave Matthews Band, De La Soul, and James Taylor.
Video: Maceo Parker – "Make it Funky"
Tickets can be purchased by calling 1.877.WOLFTRAP or online at wolftrap.org.
For more information, call The Barns at Wolf Trap at 703.938.2404 or our general information line at 703.255.1900.
High-resolution images of the artists listed are available on Wolf Trap's website: wolftrap.org/Media_and_Newsroom/Photos_for_Publication.aspx.