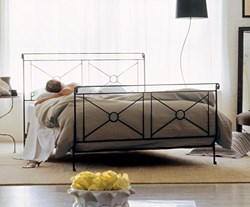 New York, NY (PRWEB) January 13, 2014
This winter, Hollywood introduces its award-season contenders; the big films with heavy-hitting casts that studios anticipate will receive nominations in the coming months. Once such film, The Wolf of Wall Street features the latest collaboration from Martin Scorsese and Leonardo DiCaprio, which tells the "true" story of Jordan Belfort, the infamous 1980's stock broker who was ultimately convicted of fraud crimes.
To create the obscenely lavish 1980's lifestyle of the Belfort character, set decorators were challenged with outfitting homes, yachts and office settings to set just the right tone. For Belfort's over-the-top Long Island master bedroom, the Campaign Bed (pictured left) from Charles P. Rogers takes center stage. The tasteful, hand forged iron bed is featured throughout the film including when Belfort's wife Naomi (played by Margot Robbie) asks him for a divorce.
With iron and brass beds making a design come back, it's no wonder that the Campaign Bed fits the 1980's storyline while also remaining relevant to today's homeowner. In fact, several Charles P. Rogers beds have been featured in contemporary Hollywood tales. The Campaign Bed has been featured in The Good Wife as has the Tansy Platform Bed (pictured right) and the Hamilton Sleigh Bed, while the 2012 film Girl Most Likely starring Kristen Wiig and Annette Benning, included the Sleigh Platform Bed and the Campaign Canopy Bed made an appearance in both Sex and the City and its sequel.
"We pride ourselves on the thoughtful design of enduring furnishings both in quality and style," states Linda Klein, President of Charles P. Rogers. "We are pleased that our offerings speak to talented set decorators, allowing them to fulfill the visions of their storylines."
A New York design staple, Charles P. Rogers offers a wide range of bed and bedding choices sure to please anyone's style. Charles P. Rogers' beds are shipped direct all over the world and are helping consumers sleep well one night at a time. To purchase or for additional information, please visit http://www.charlesprogers.com.