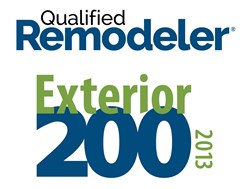 While the total revenue reported by Qualified Remodeler's Exterior 200 increased by 5% over the previous year, the per-job revenue was down sharply.
Fort Atkinson, WI (PRWEB) January 10, 2014
Qualified Remodeler magazine announced its 2013 Exterior 200 list, which ranks the nation's largest exterior remodelers based on annual revenue. While the total revenue reported by these top exterior remodelers increased by 5% over the previous year, the per-job revenue was down sharply, reported Rob Heselbarth, Qualified Remodeler editorial director.
The Exterior 200 ranking is extrapolated from Qualified Remodeler's Top 500 Remodelers list, which was released earlier in 2013. To appear on the Exterior 200 list, at least 50 percent of a remodeling firm's revenue must come from home exterior remodeling.
Windows and siding were the most common projects for the Exterior 200, followed by doors, roofing, decks, sunrooms and outdoor living.
Total revenue reported by the 2013 Exterior 200 was $2.5 billion, up 5 percent compared to the previous year, with a total of 639,427 jobs, up 35 percent. No surprise, then, that the average gross revenue per job of $3,899 was down 30 percent.
Heselbarth explained, "This trend follows that of the remodeling market in general; homeowners aren't spending as much per project as they did years ago." On the positive side, Heselbarth noted that the per-job cost—while smaller—is growing.
On average, the exterior contractors spent 10% of revenue on marketing and reported 16% of revenue was repeat business.
The full Exterior 200 list is available on Qualified Remodeler's web portal, ForResidentialPros.com.
ABOUT QUALIFIED REMODELER MAGAZINE
Founded in 1975, Qualified Remodeler (QR) is the premier publication serving contractors who specialize in residential and light commercial remodeling. QR is sent monthly to an audience of 84,200 remodeling company owners and executives, architects and suppliers.
Qualified Remodeler, published by Cygnus Business Media, is part of the Cygnus Residential Network that also includes Kitchen & Bath Design News and its integrated web portal, ForResidentialPros.com. Cygnus reaches millions of professionals annually. As one of America's top business-to-business media companies, Cygnus is leading the way in providing targeted content to top decision-makers and organizations.