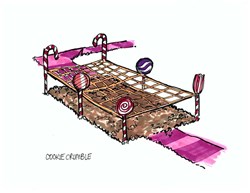 Tampa, FL (PRWEB) January 09, 2014
As the newest showpiece to the 2014 Festival of Chocolate, MOSI adds the inaugural Great American Candy Run®, a race of sweet and sticky proportions, that will allow guests to experience an interactive sweets-themed obstacle course that brings out their inner kid. MOSI's fourth annual Festival of Chocolate, Florida's largest all-chocolate themed event, as seen in Southern Living Magazine and on ABC's The Chew, will take place Jan. 18 – 20, and The Great American Candy Run will occur on Monday, Jan. 20, beginning at 10 a.m., with heats continuing throughout the day.
There is no better sugar rush than to come face-to-face with a giant cookie pit, hurdle through a peppermint patch or dive through dizzy donuts. Participants will run, walk, jump, dig, stack, crawl and launch their way through a confection adventure. The Great American Candy Run, the first of its kind, is an un-timed event for all fitness levels, ages and backgrounds, but children under 5 must be accompanied by an adult.
Space is Limited. Pre-registered Candy Run participants will receive a Sweet Sack to take home. To join The Great American Candy Run, guests must have a valid ticket to MOSI for The Festival of Chocolate on Monday, Jan. 20.
To purchase tickets to MOSI for The Festival of Chocolate and The Great American Candy Run, visit festivalofchocolate.com. Registration is open through Jan. 17, 2014. Entry into The Great American Candy Run is $8 per person or $30 per group/family of five. On-site registration will be available from Jan. 18 - 20, for $10 per person.
What is The Festival of Chocolate?
In its fourth year, the ultimate all-chocolate shopping, interactive and educational event will make chocoholics in the Tampa Bay area feel like a kid in a candy store. Recognized a top 10 Chocolate Festival in the country, the event features an incredible Vendor Showcase, featuring the best local and regional chocolatiers and confection companies; demonstrations by world-renown pastry chefs, chocolate and wine pairings; hands-on classes for the home chef; Kids-4-Chocolate workshop; crazy chocolate contests; an adult chocolate clubhouse; chocolate game show stage; live professional wedding cake competition, and the Cocoa Couture Fashion Show on the "Yumway." The Festival of Chocolate is sponsored in part by Bank of Tampa. MOSI and The Festival of Chocolate are the current Guinness World Record holders for the world's largest cup of hot chocolate.
About MOSI (Museum of Science & Industry)
MOSI is a not-for-profit, community-based institution and educational resource dedicated to advancing public interest, knowledge, and understanding of science, industry, and technology, and is home to the only IMAX® DOME Theatre in the state of Florida. With a total size of more than 400,000 square feet, MOSI is the largest science center in the southeastern United States. Learn through play inside Kids In Charge! the largest Children's Science Center in the nation; The Amazing You—a 13,000-square-foot exhibition on health and wellness; or Disasterville, featuring Bay News 9 WeatherQuest, which combines education and 10,000 square feet of interactive exhibits on the science behind natural disasters. Conquer your fears on MOSI's Sky Trail® Ropes Course, featuring 35 elements on a 12 – 36-foot-high, multilevel structure, or soar 700 feet on the Sky Trail Zip Line. Budding inventors can engineer anything imaginable and hold it in the palm of their hand in MOSI's new technology playground and inventor's studio, Idea Zone, and preschoolers can experiment with friction and collision physics in Slippery Science, a PNC Passport to Science – Grow Up Great Initiative. Additionally, MOSI recently unveiled its newest exhibition Mission: Moonbase, funded in part by NASA, where guests can travel to the moon to operate a lunar colony. MOSI is the proud winner of the 2009 National Medal for Museums by the Institute of Museum and Library Services, the nation's highest honor for museums. For more information on MOSI, visit http://www.mosi.org.
About The Festival of Chocolate
Former Walt Disney World Producer and owner of Indigo Creative Productions, Aileen Mand, partnered with third-generation Chocolatier Edgar Schaked to create The Festival of Chocolate-the ultimate interactive, educational chocolate experience. Marrying her specialty in unique, large-scale public events including Coca Cola's Olympic City, Political Conventions and Major League Baseball's All-Star Week with his expertise and outreach in the Chocolate Industry, they have traveled The Festival of Chocolate to Tampa, Orlando, West Palm Beach and are expanding the successful event into other cities.
# # #