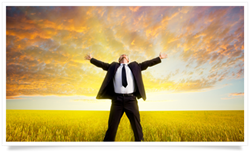 Healthy retirement portfolios depend not simply on the investor, but also his or her financial advisors.
Atlanta, Georgia (PRWEB) January 12, 2014
Investors are becoming more strategic in planning successful financial futures by using self-directed IRAs to acquire alternative investments to build wealth for retirement. These individuals seek advice from certified public accountants for tax preparation and guidance on earning tax-free and tax-deferred investment income. The point? "Healthy retirement portfolios depend not simply on the investor, but also his or her financial advisors," says Jack Callahan, Managing Partner at Advanta IRA Administration.
Self-directed retirement plans give the account owners total control in acquiring alternative assets of their own choosing—things the investors know and understand themselves—instead of relying on a third party to make investments for them. "Self-direction puts investors in the driver's seat of securing their own successful financial futures," says Callahan.
Alternative investments include:

Real estate
Real estate investment trusts
Private notes and mortgages
Precious metals
Tax liens and certificates
LLCs and LLPs
Futures trading and foreign exchange
Timber
Oil and gas opportunities
Accounts receivable
And much more!
Advanta IRA Administration is a self-directed IRA account administrator, but does not give investment advice. However, CPAs can and do provide advice for their clients. One focus of Advanta IRA is to educate professionals in a variety of fields. CPAs who attend this class receive 2 hours of CPE credits and learn about the following topics:
How learning about self-directed accounts enables CPAs to become a valuable resource for clients
What types of accounts can be self-directed
What investments are made in a self-directed IRA and the rules regarding tax-deferred and tax-free investment income
What types of investments in IRAs can incur Unrelated Business Income Tax and how CPAs can help clients navigate the requirements of this tax
Event: CPE Class for CPAs: The Potentials and Pitfalls of Self-Directed IRAs
Date: January 15, 2014
Time: 11:00am – 1:00pm
Location: 3525 Piedmont Road, NE, Bld. 8, Ste. 101, Atlanta, GA 30305
Register: Before 4pm on January 14th by contacting Teresa Chin by phone at (678) 513-8913 x 1147, or by emailing tchin(at)advantairagroup(dot)com.
About Advanta IRA
Advanta IRA Services, located in Largo, Florida, has been in operation for over 10 years, providing administrative service to owners of self-directed IRAs throughout the Tampa Bay and Sarasota, Florida regions. Advanta IRA Administration offers a second location serving the Atlanta, Georgia area and surrounding regions. Both offices are managed by Jack Callahan, J.D., CFP™. Advanta IRA offers classes, seminars and other educational tools designed to assist clients in managing self-directed IRAs by investing in real estate, notes, private placements and other non-traditional assets that have the potential to maximize IRA earnings on a tax-free or tax-deferred basis.
About Jack Callahan
Jack M. Callahan, J.D., CFP™, is the managing partner at Advanta IRA Services in Largo, FL and Advanta IRA Administration in Atlanta, GA. Jack established the corporate office, Advanta IRA Services, in 2003. Prior to that, Jack delivered specialized counsel to real estate investors, small business owners and real estate professionals on tax, legal and financial matters. As an industry expert, Jack is a frequent speaker on the topic of self-directed retirement plans and an accredited continuing education instructor for the Florida and Georgia Bar Associations, Florida and Georgia Real Estate Commissions, and The American Institute of Certified Public Accountants. He earned his bachelor of science degree in finance and multinational business from Florida State University and his law degree from the University of Florida College of Law.