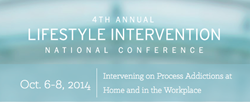 Use code SAVE30 at checkout to save 30% off registration.
(PRWEB) January 10, 2014
The 4th annual Lifestyle Intervention Conference (LIC2014) is back and better than ever. From October 6-8, wellness professionals from across the country will gather at the Bellagio in Las Vegas to build and share ideas with a powerful network of resources to serve the 72 million Americans who struggle with process addictions and food disorders.
LIC2014 will feature an impressive agenda, hundreds of attendees—including the nation's most renowned therapists, dieticians and addiction professionals—and top-level speakers who will focus on training, treatment and care for the millions of Americans facing process addictions. The three-day event will also feature a specialized track geared towards sex addiction professionals, with a special presentation from renowned author and sex addiction expert, Claudia Black.
Attendees of LIC2014 will:

Earn up to 18 CEUs with tracks focusing on advanced intervention training, process addictions and employee assistance training.
Spend the week networking and building relationships with interventionists, social workers, dietitians, therapists, licensed counselors, addiction specialists, psychologists, Employee Assistance Professionals, and addiction, obesity and eating disorder specialists.
Discover new ideas and fresh approaches to fostering life transformation. Attendees will return to work energized, ready to take action and make a difference.
Go online or call 800.508.1489 and use code SAVE30 at checkout to save 30% off registration.
This offer expires on January 31st.
About the Lifestyle Intervention Conference
The Lifestyle Intervention Conference is the fastest growing event in the nation to address process addictions. LIC2014 will provide advanced training for professionals looking to quickly and effectively diagnose, intervene and treat those who need help. For exhibit or sponsorship information, contact Julie Threet at 888.608.6542 or events(at)lifestyleintervention.org.