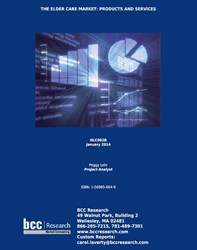 Rockville, MD (PRWEB) February 18, 2014
The U.S. eldercare market reached $286.7 billion in 2012. This market is expected to grow from $319.8 billion in 2013 to $436.6 billion by 2018, with a compound annual growth rate (CAGR) of 6.4% for the five-year period, 2013 to 2018. This report provides: an in-depth analysis and forecast of the eldercare market; analyses of market trends, with data from 2012, estimates for 2013, and projections of CAGRs for the period 2013 and 2018; identification of the U.S. and worldwide markets by demographics; discussion on international markets, as well as information on the industry's structure; a breakdown of the overall market into segments that include healthcare products and services, housing services and needs, and assistive technologies.
Individuals born between 1946 and 1964 (commonly referred to as baby boomers) will have a profound effect on the structure of societies as well as the services and products offered by governments and manufacturers. This huge market of active, relatively wealthy and demanding individuals will place enormous stress on governments to provide services and on businesses to provide appropriate products. Outlining the impact of this generation and investigating current and future products and opportunities for well-positioned companies are the primary focuses of this report.
To order this report:
The Elder Care Market: Products and Services
Contact: Shauna
800.298.5699
Customerservice(at)marketresearch(dot)com
BCC Research
BCC Research is a leading information resource producing high-quality market research reports, newsletters, and conferences. BCC's information products explore major market, economic, scientific, and technological developments for business leaders in industrial, pharmaceutical, and high technology organizations. Industry analysis and market forecasts for advanced materials, high-tech systems and components, nanotechnology and novel processing methods are at the forefront of the company's expertise.
About MarketResearch.com
MarketResearch.com is the leading provider of global market intelligence products and services. With research reports from more than 720 top consulting and advisory firms, MarketResearch.com offers instant online access to the world's most extensive database of expert insights on global industries, companies, products, and trends. Moreover, MarketResearch.com's Research Specialists have in-depth knowledge of the publishers and the various types of reports in their respective industries and are ready to provide research assistance.
Follow us on Facebook http://www.facebook.com/marketresearchdotcom.
Follow us on Twitter http://www.twitter.com/marketresearch.
The Elder Care Market: Products and Services - Table of Contents:
CHAPTER 1 INTRODUCTION
CHAPTER 2 SUMMARY
EMPHASIS OF THE REPORT
HEALTHCARE
HOUSING
ASSISTIVE TECHNOLOGY
SUMMARY TABLE PROJECTED NEEDS OF THE U.S. ELDERLY, THROUGH 2018 ($ MILLIONS)
SUMMARY FIGURE PROJECTED NEEDS OF THE ELDERLY BY TYPE OF NEED, 2013 AND 2018 (%)
CHAPTER 3 OVERVIEW OF GLOBAL ELDERLY POPULATION
CHAPTER 4 INDUSTRY TRENDS BY SECTOR-HEALTHCARE
CHAPTER 5 INDUSTRY TRENDS BY SECTOR-HOUSING
CHAPTER 6 INDUSTRY TRENDS, BY SECTOR-ASSISTIVE TECHNOLOGIES
CHAPTER 7 DEVELOPMENTAL PIPELINE FOR ELDERCARE
CHAPTER 8 COMPANY DIRECTORY
CHAPTER 9 GLOSSARY