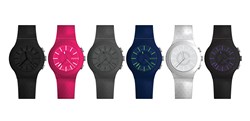 (PRWEB) January 10, 2014
CONNECTEDEVICE Ltd introduces the COGITO POP™ collection, the latest addition to its COGITO™ brand of connected watches. Created for maximum mainstream appeal, COGITO POP combines fun and functionality to make the smartwatch a more natural experience for the user. The designer analog watch delivers, at a glance, essential notifications from the smartphone directly to the wrist.
COGITO POP has been named an International CES Innovations 2014 Design and Engineering Awards Honoree for Wireless Handset Accessories. Products entered in this prestigious program are judged by a panel of independent experts to honor outstanding design and engineering in cutting edge consumer electronics products across 29 product categories.
Henri-Nicolas OLIVER, CEO of CONNECTEDEVICE, said: "We're so pleased to receive this honor from the CES Innovations committee. It's an important recognition of design excellence, especially for wearables, a category where aesthetic and ease-of-use are critically important factors."
"We believe COGITO POP's look is just as important as its functions and features," OLIVIER added. "We designed a watch that consumers would want to wear, a timepiece that blends an attractive analog face with vibrant LED icons. Everyone is free to express their own style through a variety of fun color choices."
COGITO POP was designed expressly for the active, social and connected crowd. The watch acts as an extension of the phone, not a replacement for it. Users can customize settings based on their priorities and select which notifications they want to appear on their wrist. Vibrations and color-coded LED icons on the watch face can alert users when they have a call, an email or a message on social media sites including Facebook, Twitter, WhatsApp and more. The easy-to-use interface lets users manage not just calls, but also trigger their camera, control their music and locate their phone.
Already burdened by bulky chargers, users do not need to remember to recharge their watch every night. COGITO POP runs on a conventional button-cell battery, powering the watch for up to one year without requiring a recharge. The battery can be easily replaced, when necessary, like any other conventional watch battery.
COGITO POP is meant to follow active users, especially in situations when the phone cannot be in their hands. With enhanced water resistance up to 10 ATM, COGITO POP alerts users to calls even in wet situations — under the shower, in the rain, on the beach and at the pool.
COGITO POP's mainstream appeal also extends to its price, fitting well within the budget of the market majority. CONNECTEDEVICE will be shipping COGITO POP with a MSRP US$129.95 through a wide range of retailers and online resellers. Interested buyers can follow the development progress, provide feedback and pre-order limited quantities of the COGITO POP at http://www.prelaunch.com/cogitopop.
COGITO POP will be displayed in The Venetian at the 2014 International CES, which runs January 7-10, 2014 in Las Vegas, Nevada and also be displayed at CES Unveiled: The Official Media Event of the International CES from 4-7 p.m. on Sunday, January 5 in South Seas Ballroom C at Mandalay Bay.
All our products will be on display at CONNECTEDEVICE's booth (LVCC, NORTH HALL, BOOTH 6628). The new connected watches will also be showcased inside the WristRevolution Tech Zone (LVCC, SOUTH HALL 3, 30442J).
Innovations 2014 Design and Engineering honoree products are featured on CESweb.org/Innovations, which lists product categories, as well as each product name, manufacturer information, designer, description, photo and URL.
More information about COGITO POP can be found on the web site: http://www.cogitowatch.com.
Download high resolution photos: connectedevice.com/CES2014PRESSKIT
About CONNECTEDEVICE Ltd.
CONNECTEDEVICE Ltd is a pioneer in the design, development and manufacture of digital lifestyle products and solutions — technology that is both intelligent and intuitive, functional and fashion-forward. The company is comprised of a collaborative, global team with industrial designers in Europe, software engineers in USA and hardware manufacturing specialists in Asia. Based in Hong Kong, CONNECTEDEVICE draws from over a decade of experience combining stylish accessories with smart innovations.
Press contact ∣ Esther Fok ∣ esther.fok(at)connectedevice(dot)com ∣ +852.3189.4189 ∣ Marketing Manager