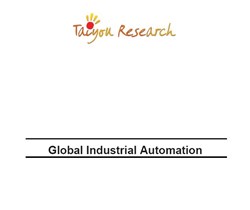 Rockville, MD (PRWEB) January 21, 2014
Global Industrial Automation
The Merriam-Webster Online Dictionary defines automation as "the technique of making an apparatus, a process, or a system operate automatically." Virtually all industries are now using some or the other sort of automation processes in order to increase the overall output and also reduce labor costs. Industrial automation, meanwhile, makes use of robotic devices to complete manufacturing tasks. Industrial automation has a very important role to play in the manufacturing industry. Some of the advantages of industrial automation include stricter quality control, higher waste reduction, and increased integration with business systems, amongst others. However, one of the biggest disadvantages of industrial automation remains the high initial costs to get the process set up along with an increased cost for maintenance of the equipment.
In recent years, China has emerged as a major force in the industrial automation industry, with most automation companies having direct exposure to the Chinese markets. Most automation companies now have a major presence in China. For example, according to Siemens, China accounts for more than almost 50% of all its CPU/PLC units sold worldwide. Taiyou Research analyzes the Global Industrial Automation Industry in its latest research offering.
The report includes the following: An introduction to automation and industrial automation through definitions and a look at the benefits of industrial automation. A thorough analysis of the global industrial automation industry makes up a significant chunk of this report. We analyze the industry through industry statistics, a look at discrete versus process automation, industry developments by geography, the growing penetration of automation worldwide along with the growing focus on embedded control. We also look at the role of energy efficiency in automation; an analysis of discrete automation is followed by an in-depth analysis of the importance of China to the global automation industry. The recovery of the US manufacturing sector and the important role played by industrial automation in this industry is also analyzed; a brief analysis of the impact of the growing market for 3D printing on automation is looked at, along with an analysis of the growing confluence of power & automation products. We also look at the mechanical design convergence with automation; an analysis of major end user markets in which industrial automation processes are utilized follows. We analyze nine major sectors such as Aerospace & Defense, Automobile, Chemicals, consumer, mining, oil & gas, amongst others.
To order this report:
Global Industrial Automation
Contact: Shauna
800.298.5699
Customerservice(at)marketresearch(dot)com
Taiyou Research
Taiyou Research was formed in 2004 with an objective at its core: thought invoking knowledge delivery. Our multitude of teams work with one guiding principle and that is to practice constant enrichment of the group and learning by processes linking into each other.
About MarketResearch.com
MarketResearch.com is the leading provider of global market intelligence products and services. With research reports from more than 720 top consulting and advisory firms, MarketResearch.com offers instant online access to the world's most extensive database of expert insights on global industries, companies, products, and trends. Moreover, MarketResearch.com's Research Specialists have in-depth knowledge of the publishers and the various types of reports in their respective industries and are ready to provide research assistance.
Follow us on Facebook: http://www.facebook.com/marketresearchdotcom
Follow us on Twitter: http://www.twitter.com/marketresearch_
Global Industrial Automation - Table of Contents:
1. Executive Summary
2. Introduction to Industrial Automation
3. Global Industrial Automation
4. Analysis of Major End Markets
4.1 Overview
4.2 Aerospace & Defense Sector
4.3 Automobile Sector
4.4 Chemical Sector
4.5 Consumer Sector
4.6 Industrial Sector
4.7 Mining Sector
4.8 Oil & Gas Sector
4.9 Pulp & Paper Sector
4.10 Utilities Sector
5. Industry Drivers
6. Analysis of Major Players