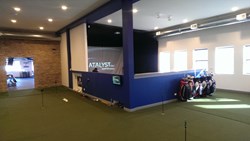 "This Center is for the golfer of any and all skill levels who is committed to assuring his golf performance and improvement is equivalent to what Tour pros expect on a daily basis," says Michael Napoleon, Director of Golf Instruction and Managing Partner
Chicago, IL (PRWEB) January 29, 2014
Catalyst Golf Performance (CPG) is opening the first and only all-encompassing, world-class and Tour-caliber indoor golf performance center featuring virtual golf simulation near Chicago's Lincoln Park neighborhood.
The Lincoln Park Performance Center is a one-stop operation for golf instruction, coaching, physical fitness and rehabilitation, club fitting and repair, practice and indoor virtual golf simulation, all housed in a 7,500 sq. ft. facility. The Center features:

Two fully-outfitted 600-sq. ft. Trackman™ hitting bays; providing integrated golf simulation, video golf swing analysis, state-of-the- art 3-D biomechanics swing analysis and radar ball tracking on a 24-sq. ft. projection screen. They feature a full image of hundreds of famous courses from around the world. Each bay includes two 46" monitors that show video and still views of a golf swing from the front, back and down the line.
A 1,300 sq. ft. putting green with a range of artificial grass chipping lengths and lies and green designs with undulations providing authentic roll, spin and skid characteristics of a real green.
A fully-outfitted 2,000 sq. ft. performance training gym including Olympic weight lifting and cross cable stations, cardio machines and a full range of equipment to promote golf-specific fitness training.
Tour-caliber custom club fitting of Titleist, Mizuno and Taylor Made and other leading club manufacturers' equipment.
An on-site club customization and repair service with re-shafting, re-gripping and loft/lie and other adjustments featuring the industry's leading components.
"This Center is for the golfer of any and all skill levels who is committed to assuring his golf performance and improvement is equivalent to what Tour pros expect on a daily basis," says Michael Napoleon, Director of Golf Instruction and Managing Partner of Catalyst Golf Performance. "Catalyst deploys an integrated and team approach of coaching, instruction, physical fitness, conditioning and rehabilitation incorporating golf's leading tools, technologies, and expertise."
"Catalyst's philosophy is different from conventional golf instruction which can involve quick fixes and short-term and periodic lessons that don't reflect a person's short and long term goals or his physical capabilities and limitations," says Napoleon. "Our approach is process driven beginning with a full game assessment that produces a highly personalized golf improvement plan and benchmarks taking in account all aspects of the golfer's game – swing mechanics, biomechanics, short game skills, physical fitness, and their current equipment. It is not about picking and choosing an off-the-shelf lesson plan based on a golfer's' perceived needs."
The company already has built successful operations that incorporate some features of the new Center at its newly enhanced facilities at the Buckingham Athletic Club in downtown Chicago and Royal Melbourne Country Club in the northern suburbs. Catalyst also operations at Chicago Highland golf club in the western suburbs.
Catalyst's partnerships at premier golf courses around Chicagoland allow its students can get onto premier courses and "put into play" what they have learned.
"Most of our competitors with indoor capabilities have no course access," says Napoleon. "Other teachers have none or limited facilities in the winter, so they have no indoor facility for neutral data collection on a golfer's swing and results."
"I expect Catalyst to become the leader in golf performance in Chicago with access to our facilities from all over Chicagoland offering indoor or outdoor coaching sessions, indoor fitness and physical conditioning and indoor or outdoor short game instruction all-year round," states Napoleon "We have provided biomechanical analysis for PGA Tour Player Luke Donald, data collection for the renowned Northwestern University golf team, and coached Philip Arouca to the 2011 Illinois Open Championship."
The Catalyst team has the highest levels of PGA of America (PGA) and Titleist Performance Institute (TPI) teaching and club fitting certifications. We also have played in the NCAA and PGA Tour and evaluated and taught some of Chicago and the world's premier players. Our fitness experts are certified by the CHEK Institute for high performance exercise instruction.
The Catalyst team of instructors and trainers are certified by the Titleist Performance Institute (TPI), the world's leading educational organization and research facility dedicated to the study of how the human body functions in relation to the golf swing.
The Center also will provide individual instruction or and class based sessions for junior golfers. Catalyst's junior performance programs feature a commitment to Long Term Athletic Development (LTAD) and more than anything to provide a fun, safe, and effective way to develop junior golfers.
"In addition to those features, the Center will address the substantial pent-up demand in Chicago winters for golfers to train, practice and play simulated golf in one facility," says Napoleon.
The Center is located at 1650 N Throop St. just off North Avenue and the Kennedy Expressway and it is open 6am to 9 pm daily. Contact http://www.catalysgolfperformance.com for more information.
-end-